Edo
Edo conceives state-led security scheme to tackle insecurity, safeguard residents
November 19, 20201.3K views0 comments
By Onome Amuge
Governor Godwin Obaseki of Edo State has reaffirmed his administration's commitment towards devising a new state-operated security scheme aimed at tackling insecurity and safeguarding lives and properties in the state.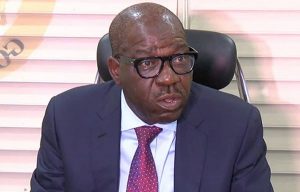 Obaseki, who made this known during a thanksgiving service to commemorate his inauguration for a second term in office, charged religious bodies, communities and other stakeholders to cooperate with the government to ensure the success of the state's community policing initiative to ensure safety in communities.
According to the governor, the move has become inevitable in the light of the flawed central policing system in the country, which makes the demand for restructuring of the nation more germane.
He also spoke on the necessity to adopt new security plans in religious centres, schools and communities across the state, stating that the state government is investing in its intelligence gathering system and has completed a design of its own correctional facility which it has started building.
Recounting his efforts towards assuaging the current security situation in the state the governor stated, "When I saw that we were not making progress in getting back the escaped inmates, I went to obtain their names from the Controller General of the National Correctional Service."
Obaseki also condemned the recent killings and attacks inflicted on the police across the country which he described as worrisome.
"When people go out with impunity to attack and kill the police, after they finish doing that, they will come back and kill the citizens. The point I am trying to make is that we have come to the point that we must now secure ourselves. We can no longer continue to wait for help from anywhere; let us do what we can," he said
Obaseki called for a collaborative effort between the government, members of the community and the police to tackle crime in the society.
"We must be able to report those that are coming to our communities to carry out criminal acts. If they are children from the community, we should also stand up and give information so that they can be taken for correction," he noted.
Felix Omobude, president of the Pentecostal Fellowship of Nigeria (PFN) who also spoke at the event assured the governor of the support of the Christian community in the state.