Nigeria Frontier Markets
Edo, EP20 Nigeria seal N2.83bn deal to set up 3-in-1 recycling plant
November 28, 2022225 views0 comments
By Olivia Nnorom 
The Edo State government and EP20 Nigeria Ltd have entered into a partnership to set up a 3-in-1 recycling plant as part of the government's efforts to ensure proper waste management in the state.
The plant, when fully operational, will recycle plastics and other waste materials and also handle the incineration of hospital wastes, said Jonathan Lawani, commissioner for Environment and Sustainability, who signed the deal on behalf of the Secretary to the Edo State Government.
Lawani said the plant is a huge facility and is estimated to cost about N2.83 billion.
"Although this facility is referred to as a 3-in-1 recycling plant, the benefits are more than three. It is going to help us clean up the state and reuse some of those things we think are no longer usable," the commissioner said.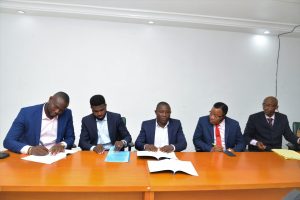 "It's going to help us create jobs, from minor to professional jobs because people with high experience will be employed and engaged to operate this facility. There will be jobs for even scavengers. Also, during the construction, people will also be engaged," he said.
Lawani said the project tallies with the MEGA (Making Edo Great Again) vision of Godwin Obaseki, the state governor, who is keen and committed to it. He said the vision aims to transform the lives of every citizen of Edo State by creating an enabling environment for private investors to thrive.
"This MOU has a specific timeline to deliver the project and after this signing, we will make sure the people immediately begin their job. We are going to monitor and follow it up to make sure this project is delivered as planned and commissioned as scheduled," he said.
Imariagbe Osadebamen Charles, general manager, Edo State Waste Management Board, said the plant would take care of hospital waste incineration, treat sewage and also recycle plastics which constitute nagging challenges in the waste management sector.
"These are some other smaller ancillary activities they will be looking into like electronics. They will be interested in disused batteries as well as spent oil and some other related materials," Charles said.
Osariemen Obaseki, chief executive director, EP20 Nig Ltd,  thanked the governor for guaranteeing a friendly environment and right policies to attract investors into the state.
"With the government implementing the reforms to guarantee the inflow of private investors into the state, we had to look at specific areas to complement the efforts in collaboration with the waste management board. This is going to be a modern waste facility that will curb the menace of improper disposal of wastes. We also found a good business opportunity in the treatment of sewage and hospital waste incineration," he said.