By Samson Echenim
The first Airbus A220-300 due to be delivered to EgyptAir has taken its first flight. The aircraft took off from Mirabel in Quebec Thursday, before flying around the Canadian countryside. The aircraft is the first of an order of 12 aircraft.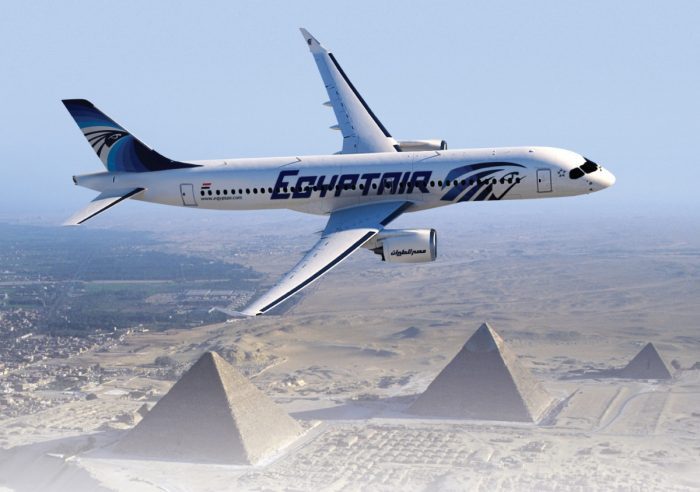 The A220 is proving to be a popular aircraft. While some airlines are looking to use the model for their regional flights, others are looking to solely use the type. In fact, the longest Airbus A220 flight sees the aircraft flying for six hours from Riga to Abu Dhabi, according to Simpleflying.com.
EgyptAir has 12 Airbus A220 aircraft on order. The aircraft was initially ordered as the Bombardier CS300. However, the programme was subsequently rebranded as the Airbus A220. EgyptAir will receive the same aircraft that was ordered. However, the only difference will be the name on the side. In fact, some booking engines, such as Google Flights, still list the aircraft as the CS300.
The aircraft spent roughly three hours in the skies above Canada. EgyptAir will be the fifth operator to receive the Airbus A220-300, and the sixth operator of the program so far. Additionally, the Egyptian flag carrier will become the second operator of the Airbus A220 within Africa. Air Tanzania became the first Airbus A220 operator in Africa with the first one delivered in December 2018.
The aircraft is due to be operated by EgyptAir's regional arm, EgyptAir Express. EgyptAir Express currently has ten active Embraer E170 aircraft according to Planespotters.net. According to CH-Aviation, the Embraer E170's will be replaced by the Airbus A220 order. While EgyptAir has 12 on firm order, the airline also has options for 12 more of the type.
EgyptAir's Airbus A220s will have 134 seats. This is 11 less than the 145 seat layout found onboardairBaltic's Airbus A220 aircraft. Wondering what it's like on an Airbus A220? Why not take a tour with airBaltic's CEO, Martin Gauss:
With the aircraft making its first flight, it seems like the countdown until delivery is on. Airbus usually alert a customer to their expected delivery date. However, the customer is always given the privilege of announcing the delivery of their aircraft themselves.
It had previously been reported that the aircraft would enter service on the 6th of September, however, this is not shown in EgyptAir's schedule. It is possible that delivery of the aircraft is taking slightly longer than had originally been planned.