Deal
Finance
Ellah Lakes makes full, final settlement of N589.5m debt
Adesola Afolabi was a businessamlive reporter and Head of Financial desk.
January 31, 20191K views0 comments
The management and board of directors of Ellah Lakes Plc, a listed company which specialises in fish farming, has announced the approval of a full and final settlement of a N589.5 million debt owed to J.W Ellah Sons & Company Limited.
The announcement was made via the Nigerian Stock Exchange (NSE) in a regulatory filing also confirming the firm's ongoing restructuring exercise.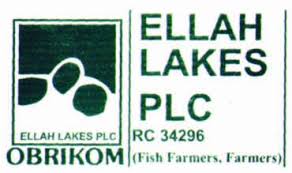 Michael Ellah, the company secretary in the signed notice explained that the debt settlement is part of the result of the ongoing restructuring exercise expected to be completed by the first quarter of 2019.
"Ellah Lakes Plc intends to complete the restructuring exercise within the first quarter of 2019," the statement signed by Ellah said.
 "In return for the discharge of the debt, Ellah Lakes has assigned its interest in the property lying and situated as Obrokom in Ahoada local government area of Rivers State to the lender in full and final settlement of the debt to Chief J.W. Ellah Sons & Company Limited," it added.
According to the statement, the implication of the debt settlement is that the lender has irrevocably and unconditionally released Ellah Lakes, its subsidiaries and all other third parties from all obligations, and a completion of the first step in restructuring the balance sheet of Ellah Lakes.
Ellah lakes is yet to be up to date with filing its financial statements, hence the MRF insignia on the company's NSE profile which indicates Missed Regulatory Filing. The company shares however last traded at N4.26 on the Nigerian Stock Exchange (NSE).