By Samson Echenim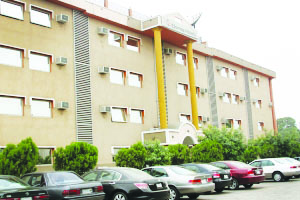 Elomaz Hotels, an indigenous hospitality brand in the heart of Maryland, one of Lagos' mainland premium neighbourhood is definitely no longer new to many Lagos visitors.
In November, 2006, when the hotel opened to guests, it was the talk of the town and sales was on high, until a year later when the Protea Leadway and Protea Hotel, Ikeja GRA, opened for business. Elomaz has gone through a hard competitive outing against the two "Proteas" and while ownerships have changed hands in both Protea Leadway, now Le'Ola Hotel and Protea, Ikeja, now Radisson Blu, Elomaz still stands tall withi its indigenous mark of pride.
An ultra modern complex, strategically located in the tranquil environment of Maryland, with easy access to Mobolaji Bank Anthony Way and Ikorodu Road, the main artery to Lagos Island, Elomaz Hotel is about 15 minutes drive to/from the local and international airports at Ikeja. The hotel continues to be home to hundreds of airline crew who occasionally check in for either a few hours rest between flights or a whole night long.
To maintain its competitive ambiance, the hotel offers a fairly large categories of rooms, up to four, including living-suites and a rooftop bar.
Elomaz's Classic Room is its cheapest, but combines comfort, essence and parades all such facilities needed for a blissful stay, such as free WiFi, flat screen television with a variety of satellite channels, a cozy dinning section, refrigerator, queen size bed including bath and shower facility. The room is air conditioned, modern and exquisitely decorated with an electronic safe. Like the other categories, the room is air conditioned, modern and exquisitely decorated with an electronic safe.
The Business Suite is customised for the business traveller, offering free in addition, free WiFi, turned down service and a spacious living area.
The Deluxe Suite lies in wait for that top executive, business owners and politicians whose love for the hotel have stood the test of time. The room consist of a separate living area, guest bathroom, refrigerator, kingsize bed including bath and shower facility.
Whichever room the guest can afford, each of the rooms is furnished with a combination of elegant furniture, beautiful art works and designs, remote controlled TV, air conditioners and electronic safes.
The suites offer the benefits of spacious living area and big bedroom, as the hotel staff offer VIP turndown service in the business and delux rooms.
Traveller & Hospitality observes that Elomaz Hotel has had to review its rates down by up to 80 percent from its rates at inception in 2006. This is perhaps, a traditional approach to remain competitive as the hotel operates in the enclave of several premium hotels with foreign franchise.
In addition its very cozy and exotic restaurant and bar, the rooftop bar offers an unusual area of relaxation while enjoy natural breeze, on a height too far for the reach of Plasmodium Falciparum bearing insect.
The hotel's conference room is always ready for corporate trainings, while the banquet hall is just in wait for the next mini party. Guests who are not staying with their personal computers can also work at the hotel's cybercafe, perhaps after a brief course at the gym. A handy car service means guests are free like a bird to touch any of the nearby tourist centres such as the Fela Shrine for live African music club, the Ikeja Golf Club, Africa's largest computer market, called the Computer Village and more.
If you are a businessman, you won't just stay in Elomaz for affordable luxury, but also for a short lessen of how be on top competition amidst giant competitors.