Europe
English shoppers shun plastic bag after 5 pence levy imposed
July 21, 20171.4K views0 comments
The number of plastic carrier bags handed out by large stores in England fell by 83 percent since they started charging a levy for their use, government data showed on Friday.
The average shopper in England now takes home about 25 bags a year from the main supermarkets, compared with about 140 bags before the charge was introduced in October 2015, according to the first full year of data recorded by the Department for Environment, Food and Rural Affairs.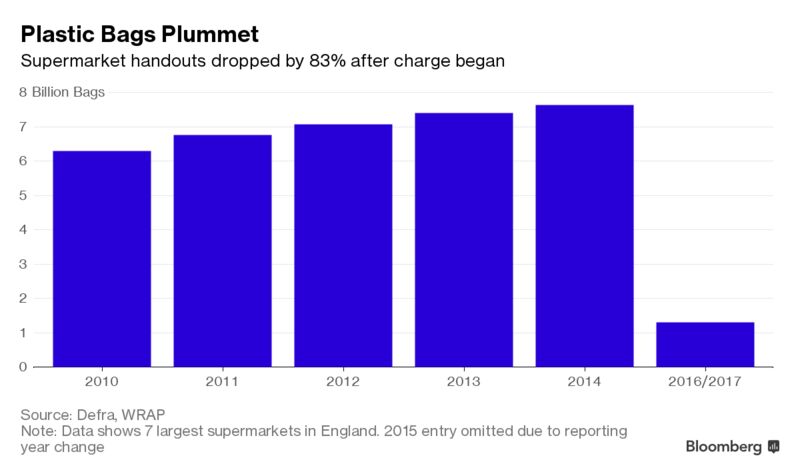 Large retailers are required to charge shoppers 5 pence ($0.06) per bag used, which is then donated to charitable causes. The levy is supposed to encourage people to reuse bags instead of discarding them, where they can end up in landfill sites, get caught in trees or pollute the oceans. About eight million tons of plastic makes its way into seas each year globally, which is ingested by 31 species of marine mammals and more than 100 species of sea birds, according to Defra.
Environment Secretary Michael Gove welcome the figures in a speech on Friday and confirmed the government would also introduce a law this year to ban the sale and manufacture of plastic microbeads in toothpastes, shower gels and other cosmetics.
"We will explore new methods of reducing the amount of plastic – in particular plastic bottles — entering our seas, improve incentives for reducing waste and litter, and review the penalties available to deal with polluters — all part of a renewed strategy on waste and resources that looks ahead to opportunities outside the EU," he said.
The seven main supermarkets in the U.K. issued 6 billion fewer bags from April 2016 to April 2017 compared with 2014, before the charge began. More than 66 million pounds was donated to charities, Defra said.
Wales, Scotland and Northern Ireland also charge shoppers for plastic bags and around the world Bangladesh, Italy, China and South Africa have banned bags.
---
Report courtesy Bloomberg