Sport Business
EPL clubs spend record £1.47bn in summer transfer window as Arsenal, Swansea, Tottenham make profit
September 1, 20172.3K views0 comments
English premier league clubs spent a total of £1.47 billion during the summer transfer window, which closed Friday. The total expenditure thus surpassed last summer's previous record, when the £1billion threshold was smashed for the first time, by almost £300m.
According to records gleaned from Sky Sports Friday Morning, Manchester City splashed the most cash this summer, with an outlay of £217.3m – primarily on defensive signings Kyle Walker (£50m), Benjamin Mendy (£49.2m), Danilo (£26.9m) and goalkeeper Ederson (£34.7m) – in addition to midfielders Bernardo Silva (£43m) and Douglas Luiz (£10m).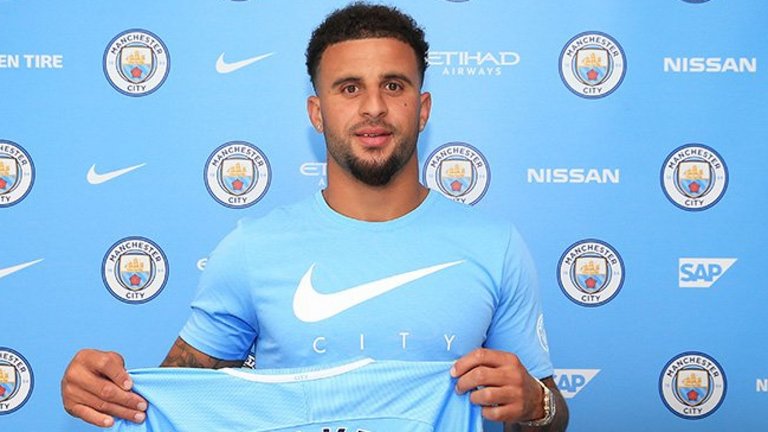 Chelsea overtook Manchester United as the next biggest spenders on Deadline Day, with last-minute signings Davide Zappacosta (£23m) and Danny Drinkwater (£35m) joining fellow summer acquisitions Antonio Rudiger (£34m), Tiemoue Bakayoko (£40m) and Alvaro Morata (£70m) to total £202m.
United spent £169.5m on blockbuster signings Romelu Lukaku (£90m), Nemanja Matic (£40m) and Victor Lindelof (£39.5m), while Jose Mourinho also re-signed Zlatan Ibrahimovic on a free transfer.
Other spendthrift clubs included Everton (£152.9m), Liverpool (£89.5m) and Tottenham (£61.4m).
In contrast, Stoke spent the least on new acquisitions, with just a £25m outlay, the money going on defender Kevin Wimmer (£18m from Spurs) and making Bruno Martins Indi (£7m from Porto) a permanent member of Mark Hughes' squad.
Lukaku's switch from Everton to United was the most expensive Premier League deal during the window, followed by Morata, Arsenal's Alexandre Lacazette (£52.7m) and City full-backs Walker and Mendy.
A remarkable 12 clubs set respective transfer fee records, including Arsenal, Bournemouth, Brighton, Burnley, Chelsea, Everton, Huddersfield, Liverpool, Southampton, Tottenham, Watford and West Ham.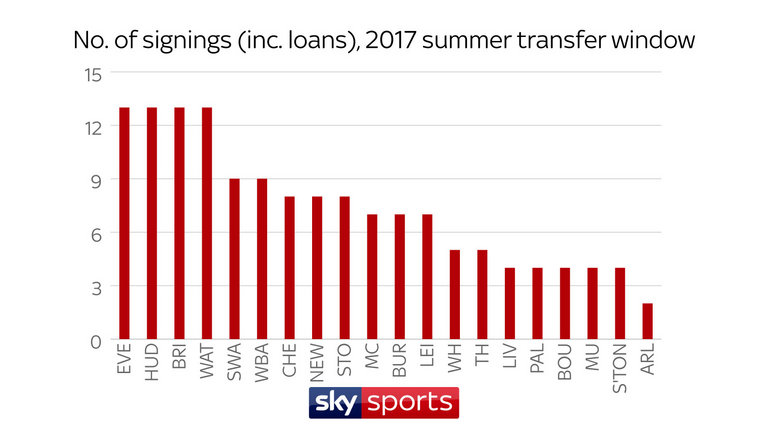 Cash from sales
Despite being among the big spenders this season, Everton received the most income from player sales with £109.75m – primarily from Lukaku's move to Manchester United.
The Toffees also offloaded Gerard Deulofeu to Barcelona for £10.5m, Tom Cleverley to Watford for £8m and Gareth Barry switched to West Brom for £1m.
Chelsea raked in £109m from player departures, including Matic (£40m), Nathan Ake (£20m), Juan Cuadrado (£17m), Asmir Begovic (£10m), Bertrand Traore (£8.8m), Nathaniel Chalobah (£7m) and Christian Atsu (£6.2m).
Manchester City received £83.24m, offloading Kelechi Iheanacho (£25m), Wilfried Bony (£12m), Enas Unal (£12m), Aaron Mooy (£10m), Nolito (£7.9m), Fernando (£5.64m) and Aleksandar Kolarov (£4.5m) – but the sales failed to mitigate their league-topping spending spree.
Other clubs that received above-average funds from selling players included Arsenal (£70.5m), Tottenham (£68m), Swansea (£59m) and Burnley (£48.5m).
Conversely, Bournemouth, Brighton and Crystal Palace did not receive one penny from player sales, while West Brom only collected £2m, followed by Huddersfield (£5.4m) and Watford (£5.8m).
Net spend
Manchester United recorded the biggest net spend, dipping into the club's coffers for £160.5m – after replenishing only £9m from player sales.
Neighbours City were £134.06m in the red this summer, followed by Chelsea (-£93m), Watford (-£51.7m), Liverpool (-£46.5m) and Everton (-£43.15m).
Only five clubs registered a net profit from transfer dealings, led by Swansea with +£19.5m in the black.
Interestingly, north London rivals Arsenal and Tottenham were both among those clubs – making more from player sales than they spent on new players.
The Gunners made a net profit of +£17.8m, with the sales of Alex Oxlade-Chamberlain (£40m), Wojciech Szczesny (£13.5m), Gabriel (£10m) and Kieran Gibbs (£7m) offsetting their £52.7m coup of Lacazette in July.
Spurs collected £50m for Walker and £18m for Wimmer before splashing almost all those profits on Davidson Sanchez for £38.4m and Serge Aurier for £23m, while Stoke (+£11m) and Burnley (+£9m) also made profit.
Number of signings
Everton, Watford and newly-promoted duo Huddersfield and Brighton made more signings than any of the other clubs – each adding 13 new players to their ranks – while the Terriers also completed a league-high three loan deals.
In contrast, Arsenal were the least active Premier League club – only signing Lacazette, and Sead Kolasinac on a free transfer in early July – followed by Manchester United, Liverpool, Crystal Palace, Bournemouth and Southampton (four signings each).
Number of departures
In terms of outgoings, Chelsea offloaded the equivalent of four teams, with 43 players leaving Stamford Bridge – of which 29 have sought experience elsewhere on loan.
Manchester City (36 departures), Everton (28), Swansea (24), Arsenal (22), Burnley, Liverpool (both 21) and Newcastle (20) also parted company with players in abundance, on a temporary or permanent basis.
Southampton and Manchester United offloaded the fewest players – each parting company with 12 players over the summer, followed by Watford (13 players), Bournemouth, Brighton and Leicester (14 each).
You may like this – Top 10 richest Football clubs in the world and their worth