Equities
Markets
Equities market halt 3-day bullish trend on profit taking in Seplat, Zenith, ETI
Adesola Afolabi was a businessamlive reporter and Head of Financial desk.
March 6, 2019797 views0 comments
The Nigerian stock market fell 0.16% Wednesday to halt a three-day bullish run. The All Share Index (ASI) settled at 32,121.74 points following profit taking in Seplat (-3.6%), which posted a 45 percent decline in its full year 2018 results released today. Investors also took profit in Zenith Bank (-0.8%) and ETI (-2.1%).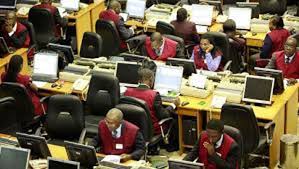 As a result, investors wealth decreased by N19.4 billion to N12.0 trillion while year-to-date return moderated to 2.2 percent. Also, activity level weakened as volume and value traded declined 48.0 percent and 19.6 percent to 208.3m units and N2.8bn respectively.
The most active stocks traded by volume were Zenith (45.4m units), Guaranty (23.1m units) and Fidelity (20.2m units) while Zenith (N1.1bn), Guaranty (N872.9m) and Dangote Cement (N171.3m) led by value.
Sector performance was largely bearish as 2 of the 5 major indices closed in the green.
The Banking and Insurance indices gained a marginal 3bps and 2bps respectively, buoyed by modest price appreciation in Guaranty (+0.9%) and Access (+1.7%).
On the flip side, the Oil & Gas index extended losses as sell-offs in Seplat (-3.6%) dragged the index by 1.7 percent while the Industrial Goods index trailed, depreciating by 1.3 percent on the back of declines in CCNN (-5.0%).
Similarly, the Consumer Goods index fell 0.1 percent based on losses in Dangote Flour  (-0.9%), Honeywell Flour (-3.7%) and CADBURY (-1.9%) which dragged the index.
Investor sentiment as measured by market breadth fell to 0.4x from 0.8x recorded yesterday. The top outperforming stocks were JAIZBANK (+5.0%), ACCESS (+1.7%) and UCAP (+1.5%) while the laggards were led by MCNICHOLS (-10.0%), ETRANZACT (-9.9%) and CCNN (-5.0%).
Despite the day's bearish performance, Analysts at Afrinvest expect the benchmark index to post a positive close for the week as investors position in fundamentally sound securities ahead of dividend announcements.