Frontpage
Equities rebound as Nigeria bourse index rises 0.56% on investors' hunt for bargains
September 18, 20181K views0 comments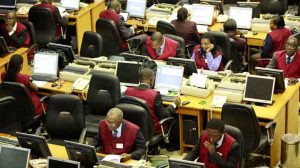 Trading activities at Nigeria's equities market reversed its bearish performance
on Tueday
as gains in FBNH (+6.1%), NESTLE (+2.3%) and UBA (+6.9%) drove the All Share Index (ASI) 0.56 percent higher to 32,381.00 points.
M
arket capitalisation
also
increased
on the back of this performance
by
as much as
N65.4 billion to
reach
N11.8 trillion
,
while year-to-date loss decreased to -15.3 percent.
 Activity level strengthened as value and volume traded inched 23.3 percent and 67.9 percent to N2.7 billion and 269.8 million units respectively.
ACCESS (N679.8 m
illion
), ZENITH (N338.4m
illion
), and INTBREW (N229.7 m
illion
) led the most traded stocks by value while ACCESS (84.9 m
illion
), SKYEBANK (22.9 m
illion
) and ZENITH (16.4 m
illion
) were the top traded stocks by volume.
Performance across sectors was largely bullish as
four out of five
major sub-sectoral indices closed northwards.
The banking index led gainers as bargain hunting in ZENITH (+2.4%) and UBA (+6.9%) drove the index 1.3 percent higher. Also, the oil
and
gas and consumer goods indices rose 0.3 percent apiece on the back of buying interest in FORTE (+5.3%), ETERNA (+3.3%), NESTLE (+2.3%) and DANGSUGAR (+0.7%).
The industrial index eked out a marginal
two basis points
gain due to price appreciation in CUTIX (+2.5%).
On the flip side, the insurance index was the lone loser, down 0.2 percent following sell pressures in UNIVINSURE (-8.0%) and CORNERSTONE (-8.7%).
Investor sentiment improved as market breadth (advance/decline ratio) strengthened to 1.5x from 0.8x recorded the previous session as 27 stocks advanced against 18 that declined.
The best performers were FIRSTALUM (+10.0%), PRESTIGE (+9.6%) and ROYALEX (+9.5%) while REDSTAREX (-9.1%), CORNERSTONE (-8.7%) and STDINSURE (-8.7%) depreciated the most.
Tuesday's rebound in the market was in line with analysts expectation at Afrinvest who
say they
expect the rebound to be short-lived as sell pressures persist.