Frontpage
European stocks gain on economic data, as pound slips after Manchester suicide attack
May 23, 20171.7K views0 comments
European stocks advanced as economic data from Germany and France signaled that the region's recovery is on track. U.K. equities and bonds showed resilience in the wake of a suicide bomb attack, even as the pound slipped.
The most important market news of the day.
Get our markets daily newsletter.
Technology companies helped spur the Stoxx Europe 600 Index after Nokia Oyj settled a litigation with Apple Inc. The U.K.'s FTSE 100 Index rose a third day as S&P 500 futures also climbed. South Africa's rand led declines in emerging-nation currencies as a risk-off mood hit markets after a terrorist attackkilled at least 22 people at a concert in Manchester. Oil dropped, halting a four-day rising streak that took the price of crude above $51 a barrel.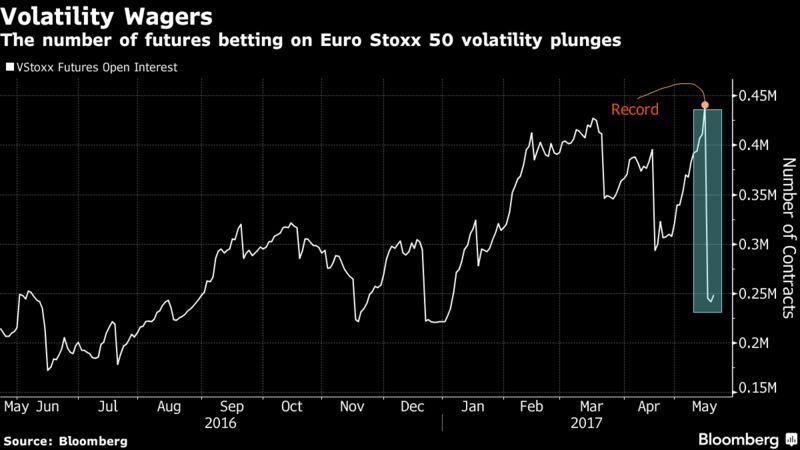 Confidence is building in the European economy, with data on Tuesday confirming the German economy is firing on all cylinders and France's is gathering momentum, while a euro-area Purchasing Managers' Index showed manufacturing in the bloc expanded at the fastest pace in more than six years. That's bolstering the case for investing in the region as political wrangling in Washington rumbles on, diverting attention from U.S. President Donald Trump's spending and tax plans.
"Europe's growth numbers aren't knocking the skin off the ball, but they are less volatile and it's doing relatively well compared to the U.S., U.K. and Japan," said Bill Blain, head of capital markets at London-based Mint Partners. "More than a few global investors have lost faith in the U.S. recovery and Trump jump."
The U.S. president in March asked Director of National Intelligence Daniel Coats and NSA Director Michael Rogers to publicly deny existence of any collusion between his campaign and the Russian government, the Washington Post reported, citing unidentified current and former officials.
Here are some key upcoming events:
Next stop on Trump's tour will be the Group of Seven and NATO meetings in Europe.
Sales of U.S. new homes in April probably held near a nine-year high, Commerce Department figures are projected to show Tuesday.
Minutes from the last Federal Reserve policy meeting will be released Wednesday, offering more clues to the path of interest rates.
OPEC will meet in Vienna on Thursday, with major oil producers edging closer to extending an agreement to curb output.
South Korea, Canada, South Africa and Thailand set interest rates this week.
And here are the main moves in markets:
Stocks
The Stoxx Europe 600 Index gained 0.2 percent by 9:42 a.m. in London. The U.K.'s FTSE 100 Index added 0.1 percent.
Futures on the S&P 500 climbed 0.1 percent after the underlying gauge rose 0.5 percent on Monday.
The selloff in Brazilian assets resumed on Monday. The NEXT Funds Ibovespa Linked Exchange Traded Fund, an equity ETF that tracks Brazil's benchmark index, slumped 3.9 percent in Tokyo trading Tuesday.
Currencies
The Bloomberg Dollar Spot Index was flat, trading near the lowest level since November.
The yen rose 0.1 percent to 111.20 per dollar.
The pound slid 0.1 percent to $1.2984 after weakening as much as 0.4 percent. The euro rose 0.1 percent to $1.1250.
South Africa's rand weakened as much as 0.5 percent. Turkey's lira was down 0.3 percent.
Bonds
The yield on 10-year Treasury notes was little changed at 2.25 percent.
German benchmark yields slipped two basis points while those in France and the U.K. were little changed.
Commodities
WTI crude fell 0.7 percent to $50.76, after jumping above $51 per barrel on Monday.
Gold rose less than 0.1 percent to $1,260.04 an ounce.
Asia
Japan's Topix dropped 0.2 percent after swinging between gains and losses. South Korea's Kospi rose 0.3 percent. Hong Kong's Hang Seng fell 0.1 percent. The Shanghai Composite Index lost 0.5 percent.


---

Courtesy Bloomberg