Capital Markets
European stocks head for fourth consecutive loss
May 31, 20171.4K views0 comments
European stocks dropped almost across the board on Tuesday, with banks leading the charge lower after a broker downgrade and concerns over a potential early election in Italy, MarketWatch reports.
Renewed concerns that Greece may not make its next debt repayment also hit investor sentiment in Europe.
The Stoxx Europe 600 index lost 0.4% to reach 389.81, on track for a fourth straight session of losses.
The UK's FTSE 100 index fell 0.4% to 7,520.55, as traders returned from a long bank holiday weekend. In Germany, the DAX 30 index was slightly lower at 12,627.78, while France's CAC 40 index gave up 0.6% to 5,298.17.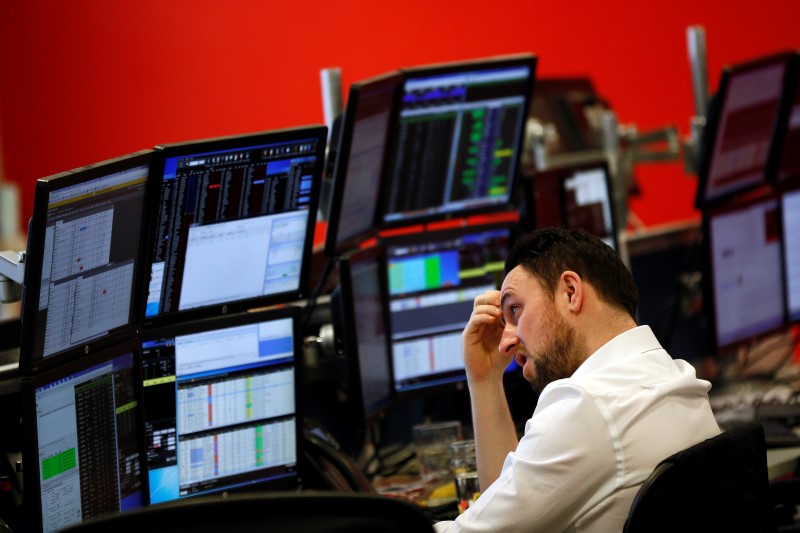 Banking blues: The Stoxx Europe 600 Banks Index slid 0.9%, making banks the worst performing group on Tuesday.
The weakness came after Deutsche Bank lowered banks to underweight from a benchmark rating, saying a slowdown in eurozone growth is likely to weigh on the sector in coming months.
"Banks are among the sectors most sensitive to swings in euro area PMI momentum and tend to underperform when it turns negative," the Deutsche Bank strategists said in a note.
"If PMIs fade back to the levels consistent with our economists' projections (at around 53), this would imply PMI momentum (i.e. the six-month change in PMIs) turning negative over the coming months," they added.
PMIs refer to purchasing managers' indexes, which are closely watched for indications of economic growth.
Italy's vote: Fears of an early election in Italy also hit the banking sector on Tuesday. Italians must head to the polls no later than the spring of 2018 to vote in a general election. But Matteo Renzi, the leader of Italy's ruling centre-left Democratic party, said in a weekend interview that it would make sense to have the vote in September, when a German election is also planned.
Renzi is now starting talks with opposition parties on an electoral reform that could pave the way for an election within months, according to media reports.
"The Italian political risk is back," said Holger Schmieding, chief economist at Berenberg, in a note. "Whether the major parties will agree on a new election law fast, and whether the current government led by the centre-left will indeed step down or disintegrate to possibly trigger early elections, remain open questions."
A key concern for investors is that a eurosceptic party will make a significant showing, putting Italy on a path to leave the eurozone. But Berenberg played this down.
"The ultimate tail risk, namely that the Five Stars could team up with the Lega Nord to take Italy out of the euro, remains very small, in our view," Schmieding said.
Italy's FTSE MIB Index fell 0.1% to 20,774.54, building on a 2% slide from Monday.
Banks posted some of the biggest losses in Italy, with Unione di Banche Italiane down 1.4%, Mediobanca Banca di Credito Finanziario, 1.3% lower and UniCredit down 1%.
Greek drama: Jitters over Greece's bailout programme returned to the fore as well. Greek finance minister Euclid Tsakalotos on Monday hinted that the country may opt out of getting its next bailout payment unless its creditors agree on debt relief.
Greece is due to make a debt repayment in July and without the next tranche of bailout money, Athens may struggle to pay and could default on some loans.
The Athex Composite Index was down 0.1% at 776.27.
Movers: UK-listed shares of International Consolidated Airlines Group fell 2.9% on their first trading day after hundreds of British Airways flights were grounded over the weekend due to a far-reaching computer failure. Spanish-listed IAG shares rose 0.9% after sliding 2.8% in Monday's trade.
The airline said Tuesday it was back to a full schedule at London's Heathrow and Gatwick airports.
Akzo Nobel dropped 1.5% after US activist investor Elliott Management lost a legal battle to remove the chairman of the Dutch paints and chemicals giant.
Economic news: France's economic growth was upgraded to 0.4% in the first quarter, from a previous estimate of 0.3%. That beat analyst forecasts of a 0.3% reading.
Economic confidence in the eurozone slipped in May to 109.2, missing expectations.
At 1 p.m. London time, or 8 a.m. Eastern Time, a preliminary estimate of German inflation for May is due for release.
European Central Bank President Mario Draghi said Monday the eurozone still needs a "fairly substantial amount" of monetary stimulus because inflation in the region is still too weak.
The euro fell after Draghi's comments and continued lower on Tuesday. The shared currency bought $1.1150, down from $1.1164 late Monday in New York.