Capital Markets
Finance
Expect currency devaluation in 2019 – Vetiva Oluwaseun Afolabi is Businessamlive Reporter.
You can contact him on afolabi.oluwaseun@businessamlive.com with stories and commentary.
December 18, 20181.4K views0 comments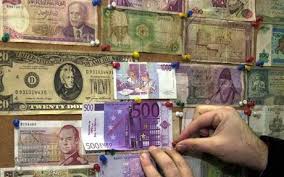 Aanalysts at Vetiva Capital have hinted that the year 2019 could see the naira get devalued.
In a monitored interview on CNBC, Ifedayo Olowoporoku, an analyst at Vetiva, said that in the year 2019, forex market pressures will persist, and could lead to the naira being slightly devalued towards the end of next year, forecasting N390 per dollar.
Olowoporoku said, "I think currency volatility will be the headwind in 2019. The pressures that we have seen this year will persist and the drivers of these pressures will not change next year. We will still see monetary tightening in developed markets impact investors' sentiment towards emerging markets, so currency pressure is something we need to look out for next year, we forecast that there will be a devaluation towards the end of the year, more like a slight depreciation. In all, we forecast N390 per dollar at the NAFEX ."
The researchers released their 2019 outlook, suggesting that Nigeria will see a 2.7 percent year-on-year increase, which will be based on election spending and the performance of the manufacturing and service sector.
Shedding more insight to their outlook, Olowoporoku said, "the thing is, rightly so, we election will overshadow the first and second quarter but we also know that the election comes with spending, which is part drivers our expectation. The 2.7 percent year-on-year growth will be mostly driven by manufacturing and service sector, based on a marginal increase in consumer demand because we have a base expectation that the minimum wage increase will kick in next year and that will significantly support consumer spending.  We expect the manufacturing and service sector to feed into the increased consumer spending and they will grow strongest."
"The agriculture and oil and gas sector will be backburner, the agricultural sector, which has been a major growth sector for a while, but the flooding issues, violence and civil unrest has affected production this year. if these issues spill into the next year, then the agricultural sector is going to perform weaker than the 3 percent, 4 percent that we have been used to," she said
Olowoporoku also predicted that oil prices will be between $50 to $60 per barrel as the bearish and volatile trend is set to continue.
Speaking on the way forward, Olowoporoku suggested that investment will lift the pressure on the manufacturing and service sector a little, and thus the importance of the outcome of the coming elections.
"If investment should increase further, it could change a lot of things; the election will not be driving economic performance but rather investment sentiment, because investors will be looking at the outcome of the elections. So, the election is important for Nigeria because we have not seen that resurgence in FDIs and in terms of cap inflows, FPIs have been our major source, so if investment is strengthened next year, that could support the growth a bit. You expect that Nigeria needs to look inward to drive this sustainable growth that we have been looking for, there have been policies but they have not brought about the multiplier effect that will support the economy," she said