Cash crop
Commodities
F.G commences distribution of genetically modified beans seeds to farmers in Kano State.
October 10, 20191.9K views0 comments
By Kenneth Afor
The federal government has commenced the first phase of the distribution of Genetically Modified Organism (GMO) of Nigerian beans seeds to farmers in Dawakin Tofa Local Government Area, Kano State.
According to Ibrahim Umar Abubakar, executive director, Institute of Agriculture Ahmadu Bello University (ABU) Zaria said that this is an effort from the government to ensure food security, improved crop yields for smallholders' farmers to boost their sales, and also improve their livelihoods.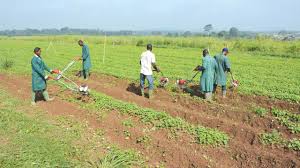 Abubakar stressed that the GMO seeds given to farmers would help them reduce the cost of production beans seeds for planting and that it has the ability to withstand any form of crop infestation from pests and rodents attacks during harvesting post-harvesting.
Moreover, he buttressed that the seeds can resist Maluca, an insect that damages cowpea, and had been recognized for its high yield production as it can produce up to four tons of cowpea per acre for the farmers.
He said, "The seed can be harvested within 35 days. With the coming of this seed, the federal government has succeeded in addressing the problem of Maluca insect that is posing a serious threat to cowpea farmers in the country. The seed needs only two sprays of insecticide from planting to harvesting period."
Meanwhile, Garba Sharubutu, executive secretary, Agricultural Research Council of Nigeria, said that for Nigeria to achieve food security and availability there is a need for an aggressive adoption and practice of the new farming technology by the farmers who were given the seeds.
He said, "This new technology could be meaningless if farmers in the country fail to embrace what the new technology developed. I, therefore, urge farmers in the country to accept the modified cowpea seed to enable the country to achieve its desired objective in respect of food security.
"Our farmers have been spending a lot of money on cowpea production, especially on insecticide, fertilizer and other supportive materials, and at the end of harvesting period, they go home with few tons of cowpea."
However, according to an agronomist, Oluwarotimi Fasola, he is of the opinion that for this to be achieved successfully, from planting of the crop to harvesting and post-harvesting, farmers must be thoroughly trained on how to plant the GMO seeds adding that it requires a special kind of farming culture that is associated to it in order to achieve the best and desired results.
He added that in advanced countries like the United States, they are shifting away from the use of GMO on open-pollinated crops such as beans. He argued that non-GMO cowpeas still have the potential to give high yields.
This feat is coming after the federal government of Nigeria was announced as being the first country in Africa to approve the planting of GMO beans seeds.