Business a.m. Unwrap
Facts about food seasoning products in Nigeria
November 25, 20198.3K views0 comments
At the fore of the food seasoning market in Nigeria are Maggi, Knorr and Royco. Maggi is from the stables of Nestlѐ Foods, while Unilever produces both knorr and Royco. Others are Onga powder and cube seasoning by Promasidor, Doyin seasoning cubes, AJI-NO-MOTO seasoning, Tetra seasoning cubes, Tasty cubes, Mamador seasoning cubes, Prime seasoning cubes, Supply cubes and Devon King's seasoning cubes amongst many others.
Tasty Cubes Chicken Flavour is best advised for purchase amongst all the brands,
because it has a net weight of 108 g in a pack of 27 cubes (each cube weighing 4 g) selling at N110, while its 400 g pack of 4 grams, 100 cubes variation goes for N420, making it economical and offering good quality at the same time. Although there are bigger-sized variations of the product in 10 g cube sizes. It is an imported product made in China.
Knorr is known for the unique taste it adds to various meals. Nevertheless, it is the most expensive seasoning brand currently in Nigeria, selling at a retail price of N530-N550 for its 400 g pack of 8 grams, 50 cubes variation. There are no smaller cubes variations.
It, therefore, has a market positioning to cater to people who do not mind spending more on seasoning. Besides, Knorr seasoning mixes (in powder form) are not easy to find in retail stores.
Royco sells at N350 for its 400 g pack of 4 grams per cube of 100. It is cheaper than Knorr, Maggi and Tasty Cubes Chicken Flavour and adds a characteristic dark colour to meals.
Maggi has high salt, iodine and sodium content which presents some concerns to many consumers. Selling at N420 for its 400 g pack of 4 grams per cube of 100 is obviously
cheaper than its Knorr equivalent. It also has a 100 g pack of 4 grams/cube (25 cubes) variation which sells at N100 similar to Tasty Cubes Chicken Flavour. It is a known brand that has captured the hearts of many people and homes. It has the most variants (up to 10) to choose from when compared to the other brands.
AJI-NO-MOTO like other products of Umami seasoning products has the cane sugar as its primary ingredient. It has product variations which contain MSG (Monosodium Glutamate) – a concern for natural health experts. There is however a counterclaim that it dissolves well in foods.It shares this characteristic with Onga seasoning which has different pack sizes for its sachet products, which include the 5g sachet, 50g economy sachet and 3 kg family size. It has a wide range of variants for customers to choose from, making it economical in a sense. But, Onga seasoning cubes and tablets do not receive as much patronage as its sachet products.
Terra Seasoning Cubes, Doyin Seasoning Cubes and Suppy Cubes all sell at
about the same price. The ingredients for this category of food seasoning products are relatively similar. Even though the brands are generally known, competition from the more prominent players has affected the level of patronage of the products. Terra Seasoning only started selling in 2019.
Maggi
Produced by Nestlѐ Foods in Nigeria. Maggi comes in variants of Chicken, Crayfish, Onion Spice, Naija Pot, Star, Mutton, Kari, Safsafal, Nokoss and Golden Beef. While Maggi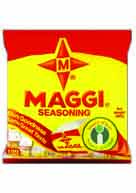 Chicken can be used for seasoning of stew, meat, and many other foods, Maggi Crayfish is best for seasoning seafood. Maggi Onion Spice complements onion and other natural spices in meals. Maggi Star is an all-rounder variant for stews, soups, and other homemade meals. Maggi Crayfish is currently the favourite of all the Maggi variants. A pack of Maggi seasoning cubes goes for around N420 in retail stores. According to the company, it sells over 100 million cubes in the Central and West African region daily, with a network of over 230,000 open market retailers and a chain of wholesalers. Maggi has since created a niche as a significant brand and household name in the food seasoning market in Nigeria. While the sugar in the makeup of Maggi, has been said to be a good source of vitamin A, explicitly tackling night blindness in adults and preventable blindness in children, the salty nature of Maggi has reversely affected its preference by some consumers who complain that they have to be scrupulous about the amount of salt they add to their cooking. In the case of Iodine, the potential health issues include hypothyroidism, which could lead to fatigue, cold intolerance, obesity and memory problems. On the other hand, too much sodium could lead to high blood pressure and renal stones. Also, TBHQ (Tert-butylhydroquinone) used as a preservative in Maggi is known to result in cases of vision disturbances to persons that consume TBHQ containing foods.
Knorr
Over the years, the brand has been positioned to offer two premium quality cubes, Knorr Chicken Cubes and Knorr Beef Cubes. While Knorr Chicken Cubes are best for stews and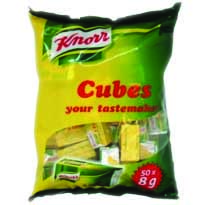 continental dishes; Knorr Beef Cubes are commonly used to prepare all kinds of African soups. Knorr seasoning cubes are free of artificial preservatives and are gluten-free. It has the biggest net weight and size of all seasoning products, being 8 grams stock cubes, and containing 50 cubes in a pack. However, Knorr is the most expensive seasoning brand currently in Nigeria, selling at a retail price of N530-N550 per pack of the products. There are also known cases of dizziness and weakness in many drugs and foods associated with the presence of ferric pyrophosphate, an ingredient in Knorr.
Royco
Royco is manufactured by Unilever Plc. Royco comes in Chicken and Beef flavours and is
also available in the Powder variant in 6 grams sachets. Royco is a blend of herbs & spices, corn-starch, salt and flavour enhancers. Royco costs N350 per pack as its retail price and therefore one of the cheapest brands around. Many consumers complained that it is harder to dissolve it in soups and it has a characteristic dark colour in food. It is quite scarce to find it in retail stores and small shops too.
Onga
Produced by Promasidor, Onga seasoning is a flavour-filled blend of herbs and spices that will enhance any traditional meal. Its flavours include classic, stew, chicken, shrimp, pondu, ala tomato and the special 3 mix of ginger, onion and garlic.
The Onga Chicken Seasoning Cube is a favourite in the Nigerian market. The powder seasoning products come in three different pack sizes which include the 5 g sachet, 50 g economy sachet and 3 kg family size. Onga products are packaged in laminate foil packaging, which ensures a long shelf life and products that will stay fresher and last longer. Many analysts claim that, there is an ingredient in the product makeup that makes it produce a bright red colour in food and stews augmenting the tomato content in meals, which is one of the major reason why people go for the brand. However, the aroma was described as unpleasant by a couple of food vendors.
Ajinomoto
AJI-NO-MOTO is a brand of Monosodium Glutamate, a significant kind of amino acid.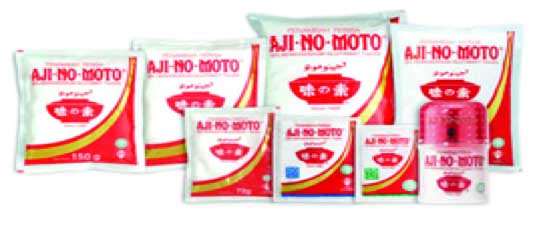 AJI-NO-MOTO is produced through fermentation method (similar to that used in making our own iru, ogiri and daddawa) with its raw material of sugar cane or starch derived from cassava/corn.  A major advantage with the product is that it quickly dissolves and blends well in food, being in powdery form. AJI-NO-MOTO Umami seasoning products are in a range of product sizes such as 20 g, 60 g, 100 g, 250 g and many others. This brand is particularly common in the North and is gaining grounds gradually in the Southern part of Nigeria, but for competition with other seasoning products. However, many consumers are of the opinion that it has the taste of raw sugar, which is a plausible argument because the products primary raw material is sugar cane. There is also a bit of a concern on MSG (Monosodium Glutamate) consumption, with many believing it causes asthma, numbness, headaches and even brain damage.
Tasty Cubes Chicken Flavour
With a net weight of 108 g, a pack containing 27 cubes of Tasty Cubes Chicken Flavour sells at N110, making it relatively cheap. It is made from hydrolysed chicken proteins,
monosodium glutamate (MSG), salt, starch and spices (pepper and ginger). Being branded as a Chicken Flavour seasoning, distributors promote it as an alternative to Knorr Chicken cubes. For this reason, it can be found in many retail stores across the country. Similar to Maggi and AJI-NO-MOTO, it contains monosodium glutamate (MSG) which researchers suggest have adverse health reactions.
Terra Seasoning Cubes
It is manufactured by TGI District Limited, former owners of Chi Limited. Terra seasoning cubes come in single cubes of 4 grams, and in variants of Chicken and Beef.
Made from iodised salt, flavour enhancers (E621, E627, E631), corn starch, sugar, vegetable fat, colourant (E150c), water, beef and chicken flavour, citric acid, emulsifier (Soya lecithin), spices (Pepper and Garlic). Terra seasoning cubes add an appealing flavour and aroma to meals. Being relatively new, many people are yet to use the product. Findings from various market surveys in Nigeria, shows unavailability of Terra in some stores suggesting the product is yet to circulate fully.
Doyin Seasoning Cubes
Doyin Group of Companies produce Doyin seasoning cubes which come in variants of
Chicken and Beef, Doyin cubes come in single cubes of 4 grams and have 100 cubes in a pack. Made with iodised salt, vegetable fat, edible starch, beef and chicken flavour, flavour enhancers (glutamate inosinate), riboflavin sugar and caramel. Even though the product has been around for a good number of years now, competition from bigger brands has not really made it thrive.
Suppy Cubes
Manufactured by Daily Need Nigeria Limited. Suppy cubes are in variants of Beef and Chicken, in single cubes of 4 grams and has 100 cubes in a pack, selling at N380 per pack.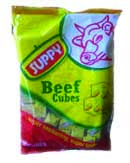 It is made with beef and chicken flavour, vegetable fat, sodium glutamate, edible starch, iodized starch, sugar, caramel, vitamin B2, onion spices and hydrolysed proteins. It is most common in the South-Western part of Nigeria and is relatively scarce outside the region.
For further enquiries kindly contact:
or call +2349083475417