Commodities
FG approves national dairy policy to enhance livestock farming
May 26, 2023228 views0 comments
The federal government has approved the national dairy policy to enhance  livestock farming by ensuring a stable and sustainable dairy sector, drive massive investments in the industry, create an enabling environment for increase in milk production, processing, distribution, consumption, and earnings of livestock farmers.
Mohammad Mahmood Abubakar, the minister of agriculture and rural development, who made the disclosure  during the 2023 world milk day ministerial press briefing, tagged ''Sustainable Dairy: Good for Planet, Good for You'', stated that the policy would create more job opportunities, reduce national expenditure on importation of milk and milk products as well as improve the nutritional status of Nigerians.
Abubakar said that the ministry would use the opportunity of World Milk Day (June 1) to coordinate focused discussions on dairy development in Nigeria from the views of industry experts in finance, agribusiness, environment and other related areas and a communique will be issued at the end of the event.
According to Abubakar, the ministry, alongside its  developmental partners would  use the opportunity to showcase its achievements in milk production, collection, processing and transportation as well as enlighten Nigerians on achievements of national programmes on pasture development, animal feed and feed security, breeding and conservation, dairy development, among others under the National Livestock Transformation Plan (NLTP).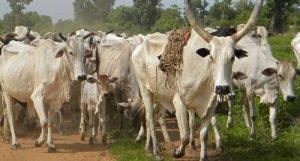 He pointed out  some of the achievements in the dairy sub sector to include capacity building and empowerment programmes on hygienic milk production and processing for dairy farmers in Bauchi and Plateau States.
Others include the construction and equipping of 12 milk collection centers at 2 per state in Adamawa, Bauchi, Gombe, Kwara, Niger and Plateau States, adding that these milk collection centers are awaiting handing over to milk processors, among others.
The minister stated further that the ministry, through the Bank of Agriculture (BOA) , would provide financial empowerment to livestock farmers to boost their productivity and resilience.
Dianabasi Akpainyang, the national president, Commercial Dairy Ranchers Association of Nigeria (CODARAN), applauded the federal government over the approval of the national dairy policy. He also urged dairy ranchers in the country to support the government's effort in order to have a competitive and productive dairy subsector.
Also speaking, Temi Adegoroye, the  managing Partner, Sahel Consulting Agriculture and Nutrition, pledged continuous technical support of its organization to the development of the dairy sub sector.
On her part,  Winnie Lai Solarin, the  director, animal husbandry services, noted  that the national dairy policy would fast-track development in the dairy sub-sector and increase earnings of livestock farmers.