Economy
Frontpage
Finally, Nigeria ratifiesits membership of AfCFTA
November 12, 2020882 views0 comments
By Hamid Ayodeji
The Federal Executive Council (FEC), the Nigerian government highest decision making body, on Wednesday announced it has approved the African Continental Free Trade Agreement (AfCFTA) instrument of ratification to the African Union Council (AUC), which generates a single continental market for goods and services, free movement of business persons and investments, expand intra-African trade, whilst enhancing competitiveness for African economic sectors and start-ups.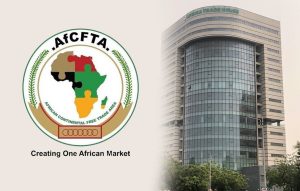 This latest development makes Nigeria the 31st African country to deposit its ratification ahead of its implementation set to begin, 1st of January 2021; joining 30 other countries namely, Ghana, Kenya, Rwanda, Niger, Congo Republic, Djibouti, Guinea, Eswatini, Mali, Mauritania, Namibia, South Africa, Uganda, Ivory Coast, Senegal, Chad, Togo, Egypt, Ethiopia, The Gambia, Sierra Leone, Saharawi Republic, Zimbabwe, Burkina Faso, São Tomé and Príncipe, Gabon, Equatorial Guinea, Mauritius, and Angola.
Meanwhile, a trade expert and former director general, Nigerian Chambers of Commerce, Industry, Mines, and Agriculture (NACCIMA), John Isemede, in a comment to Business A.M. noted that upon Nigeria's ratification of the agreement, manufacturers association that were part of the ECOWAS Trade Liberalization Scheme (ETLS) would provide all the necessary documents and assistance to all Nigerians and Africans on how we can run the AFCFTA using the existing ECOWAS templates.
He added: "The AfCFTA would be governed by five operational instruments which are; the rules of origin, the online negotiating forum, the monitoring and elimination of non-tariff barriers, a digital payments system and the African Trade observatory issues.
"In terms of numbers of participating countries, the AfCFTA  would be the world's largest free trade area since the formation of the World Trade Organisation; estimates from the Economic Commission for Africa (UNECA) suggests that the AfCFTA has the potential to both boost intra-African trade by 52.3 percent by eliminating import duties, and to double this trade if non-tariff barriers are also reduced."