Transport Business
FOB Logistics plans digital haulage system for e-commerce firms in Nigeria
August 20, 2019493 views0 comments
By Samson Echenim
Coy's CEO says freight charges from Lagos ports have risen by 100%
Nigeria's leading import and export logistics company, Free on Board (FOB) Global Logistics Limited, says it is starting up an online-based haulage concern to cater for small and medium-sized companies that are operating in the e-commerce space to be able to move their goods from any point in Nigeria, across the 774 local government areas,  at a predetermined rate without any problem.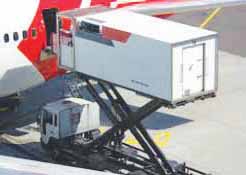 OluwajimiAdebakin, CEO of FOB Global Logistics told business a.m. in an exclusive interview at his Ajao Estate head office, that the new arm of his company was in reaction to hitches in the country's transportation system, which can be rightly addressed with technology by private sector operators.
He said, "Until five years ago when Uber and Taxify came into Nigeria if you wanted to move from Maryland to Victoria Island, you would need to go to the road and wait for the yellow taxi. They give you a price you are not happy with, but you have to take it because you've been waiting in the sun or in the rain.
"Today, with technology and private sector participation, that area has been opened up and liberalised. You can project what it is going to cost you to move from point A to point B. we will get to that position. There are one or two companies already in the market that are providing least-cost routes for businesses to do their haulage from one Point to the other.
"FOB is actually at the verge of doing what we call FOB Express, which is going to be haulage operation. We are doing the haulage operation with a major public sector body to ensure small and medium-sized companies that want to participate in the e-commerce space will be able to move their goods from any point in Nigeria, across the 774 local government areas without any problem at a predetermined rate. So it is only when the private sector, using artificial intelligence comes into that space, what happened to the taxis will happen to the truck service."
He revealed that freight charges from Lagos ports to anywhere in the megacity had risen by a whopping 100 percent from N250,000 for a 40ft container leaving the port to Ikeja to N500,000 since the traffic gridlock on the Apapa axis deteriorated.
Reacting to a recent bid by the Nigerian Shippers' Council to regulate freight charges, the FOB CEO whose company is the only firm in Nigeria rendering FOB importation service, noted that the huge cost incurred by truckers while accessing and exiting the ports meant that their freighting charges would be high.
"They spend weeks on queue trying to be loaded. Haulage companies know that they can only do, maybe two trips in a month. They have commitments with their banks to pay terms on trucks, so they really do not have a choice. I remember the time the congestion started. We used to move 40ft container from Apapa to Ikeja at N250,000, but now it is N500,000, representing 100 percent increase. What options do we have?," he said.
Adebakin who spoke extensively on the services rendered by his company, asserted that Nigerian businesses shift to transacting international trade on FOB as it gives them the benefit of paying for the cost of freight upon arrival of their cargoes at the port of destination.
He said that over 90 percent of all international trade in Nigeria is done on basis of cost, freight and insurance (CIF), including 100 percent of all transactions that qualify for forex from the Central Bank of Nigeria and 100 of all transactions that the importers require credit from banks.
"CIF transactions mean that the importer is paying for the cost of the goods in advance; the importer is paying for the cost of insurance in advance, and the importer is paying for the cost of freight in advance. The reason the Nigerian government has decided to FOB in our oil exportation is to reduce the cost implication of CIF," he said.