Oyeleye
From Rwanda with positive lessons for Africa (2)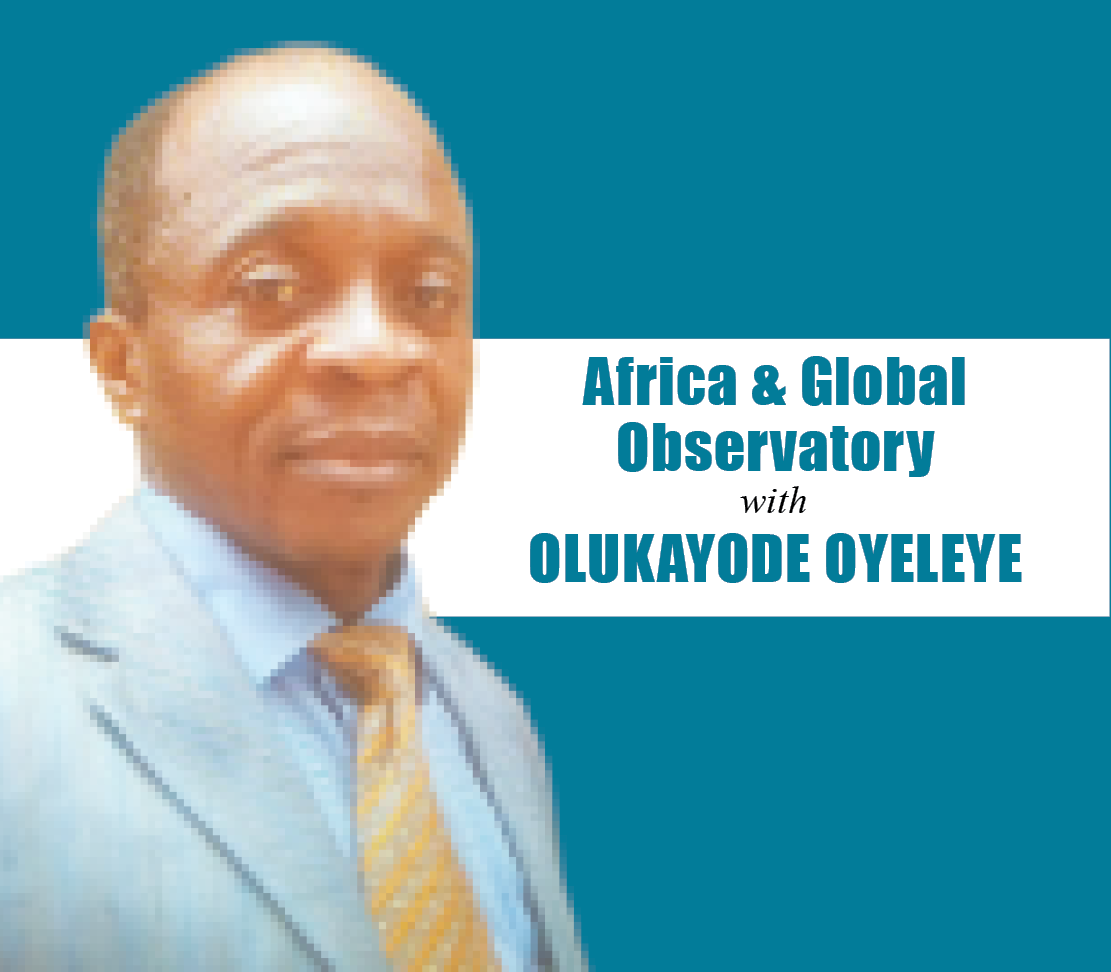 Dr. Oyeleye, a consultant, journalist and policy analyst, can be reached via:
oyeson2@yahoo.co.uk
Twitter: @OlukayodeOyele1
November 18, 2019571 views0 comments
GIVING UP ON AFRICA is the most inappropriate thing to do now. This is because the prospects of a better, richer, stable and prosperous Africa are all too evident. But, a big "IF" stands between the situation as it is now and as it could possibly be. The condition depends on if Africa will do things differently, rather in the same way, while expecting different results. The case of Rwanda is hereby being considered as a model, an exemplar and a reference point.
In national development, Rwanda is going through a phase of steady economic growth. Any country intending to grow must aspire to some ideals. The rapid development of Rwanda was underpinned in 2000 by the launch of "Vision 2020," by the government of Rwanda in the year 2000, when the country was linked to an international network of global wireless networks, in a campaign that aimed to "transform the country into a knowledge-based middle-income country,"  according to a 2018 CNN report. "Vision 2020" is a long-term development strategy with its main objective to transform Rwanda into a middle-income country by 2020, based on a thriving private sector. The lofty ambition seems to be paying off. More than two decades on, Rwanda's economy, rose from the ashes of ruins following the genocide, is fast becoming a pride of Africa, with Rwandans generally living healthier and wealthier lives, while poverty has fallen rapidly. This is happening, however, while more than 60 per cent of the population still thrive on less than $1.25 a day.
But the good statistics cannot be ignored altogether. Nor should the bad statistics be considered as misfortune. Rwanda notched up GDP growth of around eight per cent annually between 2001 and 2014, thus becoming one of the fastest growing economies in Central Africa. From commodity production and export standpoint, Rwanda is occupying a comfortable niche. One of the commodities from the country is the best coffee around, easily placing Rwanda as one of the top 30 coffee-producing countries in the world. But, just as little is known about this, the same way very little is known about the capacity of Africa to export commodities from the standpoint of strength. A particular Rwandan Coffee recently won the 'Best Tasting Coffee' in the World Award. Not too long ago, after a series of blind tastings, coffee beans grown in Rwanda were crowned the "Best of the Best" by a jury of top culinary and coffee experts at the third annual Ernesto Illy International Coffee Awards.
The coffee story easily created a niche for Rwanda in a rich, downstream agricultural global value chain (GVC), in a multi-billion dollars commodity. This is a microcosm of what is possible in the continent of Africa. Take tourism as another sector with endless possibilities. The scenic landscapes of Africa provide great tourism potential. Beginning with Rwanda, called the "land of a thousand hills and mountains," the country's landscape could neatly fit into the continent's tourism haven. This is in addition to the amazing presence of some endangered species that are still preserved. An example is found in the gorilla safaris. This is instructive for countries talking about realistic tourism sector.
The world is increasingly witnessing attention seeking and networking through partnerships, alliances and conferences. And Rwanda is boosting its international image and reckoning by hosting international mega summits and conferences where lots of deals are sealed. The flip side of the conferences is that it is also tourism by another name, creating multiplier effects and immediate benefits such as revenues for airlines and aviation industry, earnings for hotels, transport and food service providers as well as the advertising and media industry. These presuppose that positive stories need to be told repeatedly and consistently to generate the curiosity and interests of outsiders and foreign investors. Handlers of countries and African regional groupings therefore need positive spins to African stories. Rwanda, for instance, hosted the World Economic Forum (WEF) for Africa in 2018, a high profile global event.
The African aviation industry will require a healthy mix of public and private operators for a vibrant and upwardly mobile populace. National carriers are options that should remain on Africa's table for a long term. RwandAir Limited is the flag carrier airline of Rwanda, operating domestic and international services to East Africa, Central Africa, West Africa, Southern Africa, Europe the Middle East and Asia, from its main base at Kigali International Airport in the nation's capital. It is also reputed for its flights to and from Brussels in Belgium, Gatwick airport in London, UK, Nairobi in Kenya, Lagos in Nigeria, Mumbai in India, Entebbe in Uganda, and to South Africa. This airline easily complements the services of EgyptAir, South African airlines, Ethiopian airlines, Kenyan Airlines, Air Burkina, Cote d'Ivoire airlines and a host of other less popular national carriers with transnational operations.
Their continued existence and operations do not rule out the fact that many of them, except perhaps the Ethiopian airlines, are loss-making, but are propped up by countries for strategic reasons as many are not easily reached by private airlines. Only a few days ago, the South African Airlines' workers embarked on strike in protest over impending job losses while at the same time asking for pay rise. The popular Kenyan Airline is also going through its turbulent times despite what appears on the surface as a thriving airline. RwandAir's stake is 99 per cent owned by the Government of Rwanda. Its earlier efforts on privatisation appeared not to have worked out well compared to earlier projections.  The fact that private buyers were not forthcoming is a cause for alarm, however, concerning the prospects of private airlines in many African countries. This is a strong business case.
A budding and promising sector that Africa should hope to tap into is the information and communication technology (ICT) sector. Strong feelers are emanating that ICT is super-charging Rwanda's economy. Recent reports are pointing to the fact that Rwanda is becoming an ICT-centric innovation ecosystem country and the capital, Kigali, is becoming Africa's tech leader as work is reportedly well underway on the Kigali Innovation City which will house innovation labs and provide training and funding for technology companies. The hub, it is hoped, will recruit and train software developers from anywhere in Africa. One of the proofs is from its recently launched innovation hub FabLab, a space for members to turn tech ideas into products. Why not have many such hubs across Africa?
The language of the world is also very important in the mix of considerations for progress. English is clearly the world leading language, particularly in business and economy discussions. It is also nonetheless the leading language in diplomacy and international relations. African countries looking forward, far into the future, need to take big advantage of this. Rwanda, obviously, thought through the future by its decision on a national language. It might sound too harsh, judgmental and uncharitable to characterise the francophone countries of Africa as a hotbed of poverty and economic backwardness. But, reality check would prove this to be right. Whether it is mere coincidence or a fact of consequence will require deep historical, contemporary and empirical evidence to establish. But, for Rwanda, a decision taken on national language seems to be bringing positive tide and tidings to the country. Rwanda has changed from Francophone to Anglophone. The central African state explains its switch to teaching in English is aimed at increasing access to the global economy. According to AFP news channel, Rwanda turned its back on the French-speaking world when it chose English as the language of education a decade ago, although bilingualism seems rife as French is reviving.  The decision to abandon French, it was said, has some link with the 1994 genocide, in which case France was accused of complicity in the genocide that killed at least 800 000, mostly Tutsis. Consequently, then, a new political elite, dominated by Anglophone Tutsi refugees, took charge and changed the course of national language. Is this not corroborated by the fact that, in 2003, rebel-turned-president Paul Kagame, himself a Uganda-educated Tutsi, made English an official language alongside the country's first language, Kinyarwanda, and French?
Africa therefore, like Rwanda, needs to chart deliberate courses and follow the paths charted with diligence, dedication and determination. If Rwanda, a country that was almost wiped out of African map by war could come together again and begin to lead the way in certain ways, then the hope for a continental leap in the direction of progress is so very high. Let us explore and exploit it.