Oil and Gas
Fuel scarcity: Bad leadership, greedy public pile misery for all 
February 22, 2022498 views0 comments
By Olusola Bello
There is no doubt that Nigerians are going through hard times because they currently lack some of the basic things that could make life better for them.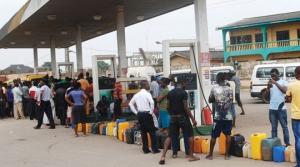 For instance, there is no fuel, no electricity. These essential resources are lacking all over the country because of bad leadership and it does not seem as if there is going to be an end to this situation very soon.
With an acute shortage of fuel, many Nigerians now resume at filling stations, wasting productive hours in attempts to get fuel to run their generators. They are currently paying dearly to get the fuel, no matter how little. This is because if anyone succeeds, he or she must pay a premium. In some filling stations, for five little jerry cans you pay a premium of about N150 and if it is above that, the volume of fuel you want you to buy would determine the amount of premium to be paid.
Nigerians cluster around the dispensing pumps at the filling stations without minding the danger involved.
Street urchins called area boys, touts are also having nice times as they take charge at filling stations and determine who gets what. They have special arrangements with petrol attendants who pretend not to see what the touts are doing. The touts fill their jerry cans with ease at the expense of other people because the proceeds from petrol are shared by both the attendants and the touts.
In some filling stations, despite the fact that they have fuel, they refuse to sell in the daytime. It is sold under the cover of the night simply because they want to make unusual gains.
These touts are now all over the streets selling fuel at different prices. They sell 10 litres for as much as N3000, that is N300 per litre. This amount, if there was no fuel scarcity, would fetch you almost 18 litres of petrol.
Successive governments have faced the challenges posed by fuel scarcity, yet their approach to reviving Nigeria's four comatose refineries in Port Harcourt, Warri and Kaduna, has been lackadaisical, representing a complete lack of leadership.
President Muhammadu Buhari, while campaigning to become president in 2014 and 2015 had as one of his campaign promises, to fix the refineries, and claimed that the fuel subsidy regime was a scam. But now, seven years into his presidency, Nigerians are still faced with harrowing and painful fuel scarcity, the magnitude that has not been seen in over one and half decades. In seven years, Buhari has failed, as president and minister of petroleum resources, to fix a single refinery; he had promised to fix all four while campaigning to be president.
Rather than solving the problems of refineries, he went through the shortcut, that is, the Direct Sales and Direct purchase programme which has now brought hardship to Nigerian citizens. The process of selecting the contractors, industry sources say, like nearly everything in Nigeria's oil industry, is  opaque and shrouded in secrecy.
Some of the contractors involved in the programme brought in the methanol-laden fuel which has resulted in the current fuel scarcity.  The country decided to reject the product as a result of the danger it poses to car engines.  But, in spite of this rejection, the Nigerian National Petroleum Company (NNPC) Limited  is desperately trying to make up for the gap that has been created, but it seems the more products it pushes out from the depots, the longer the queues get in Lagos and Abuja.
Not a few operators in the downstream of the petroleum industry have expressed their disgust and embarrassment over the persistent queues being witnessed currently in Lagos and other parts of the country.
According to them, the situation is not as serious as members of the public are making it look, as supplies are coming and companies are loading, but it may not be as it was before the unfortunate incident of the adulterated fuel.
An industry source said that two vessels containing 120,000 metric tonnes of fuel arrived at Lagos port last Tuesday. They also said in the next four to five days there are several vessels that would be arriving in the country for the discharge of some of their contents in various jetties in Lagos and in other parts of the country.
He said even before now, marketers have been loading from various depots in order to meet demands.
Those who should know and are kept abreast of the developments daily in the industry of what is being done to salvage the current situation said that people who ordinarily have not been filling their tanks before or those who feel they need to fill their jerry cans and keep for their generators because they don't know how long the scarcity would last, are the ones that are responsible for queues.
According to them, there is no doubt that marketers are not getting the desired quantity of the Premium Motor Spirit (PMS) from the Pipelines and Products  Marketing  Company  (PPMC), a subsidiary of Nigerian National Petroleum Company Limited, but what is coming, however, should keep the country wet enough to avoid the kind of queues currently being witnessed.
Some of the filling station operators are hoarding PMS thinking that the price would be increased. They are also profiteering from the situation as many of them have resulted in selling the product in the night at a premium.
Senior industry operators have, however, tried to explain the scenario in which the country is currently in. They stated:  "It is like people do not understand the magnitude of the problem.  All the products that were to be received for about five to six days were not available, because a whole week's delivery is contaminated. The first reaction from the public is panic buying because they would be imagining what is happening.
"This  consequently leads to the assessment of the situation, and having done the assessment, you then discover that the bad product has taken over half of the tankage available for storage.
"If you want to put products in tanks, you can only fill half of the tanks because the other half is occupied by contaminated products. This means even if we have fuel available there are no storage facilities to take them."
They said this situation, which looks as if there is shortage in supply, is further compounded by the people who usually bought N1000 or N500 fuel before, but are now jumping into every filling station along their way, to top up their tanks, even if there is no need to do so.
Not only that, the attitude of members of the public contributed to depleting what is available in the storage facilities of oil marketing companies. It also means that every fuel that is brought into the country, instead of it lasting for seven days in the tank, would be depleted within two days.
Another industry source said if there was fuel enough to go round there would not be queues and panic buying.
According to him, under normal circumstances, major oil marketers get three vessels to service their customers, but last week there was only one vessel, and last week also, there had just been one at the time of filing this report. It means that instead of six vessels that the marketers would normally have in two weeks, they received just two in two weeks.
He said the companies are getting products but there is a supply gap.
Another source said the technical and commercial committees set up are working very hard to ensure things work out well by turning their reports to the steering committee.
He said the committees are trying to ensure that the PPMC floods the market with products so that the adulterated one can be blended in an acceptable manner and also have enough of the good fuel made available to the public.