Start-up
GE, Lagos state, others partner, host tech conference for Nigerian young entrepreneurs
April 27, 20181.1K views0 comments
General Electric (GE), the world's premier digital industrial company, in partnership with the Lagos State Government and other organisations hosted a technology conference for Nigerian startups in the US.
The effort was in line with the American multinational conglomerate's commitment to skills development and the empowerment of entrepreneurs in Nigeria.
The conference, a result of collaborative efforts among the Lagos State Government, John Hopkins School of Advanced International Studies, Microsoft and GE, was held in Washington DC from Monday, April 23 to Thursday, April 26 with over 15 leading Nigerian tech entrepreneurs and startups in attendance.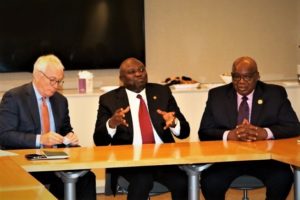 Akinwumi Ambode, the governor of Lagos State, delivered a keynote speech, 'The Role of Technopreneurs in Lagos: An Emerging Smart City,' at the conference.
A key highlight of the conference was a training workshop facilitated by GE Ventures, the venture capital subsidiary of General Electric, which shared valuable insights on how to position a startup to win with investors. There was also a roundtable discussion with key stakeholders around the theme: 'Harnessing technology to catalyze Africa's future.'
Jay Ireland, CEO & President, GE Africa said that the conference was a continuation of the ongoing partnership between GE and the Lagos State government aimed at developing the skills of young entrepreneurs in the state. "GE remains committed to supporting skills development in Nigeria, and across Africa. We see ourselves as partners in building a sustainable future for Africa, and we believe that fora such as create a platform for necessary conversations and learning. Lagos is a major economic hub in Africa populated by thousands of young people who when equipped with the right skills, can create positive change." Ireland said.
GE's most visible commitment to skills development in Nigeria is the Lagos Garage, a hub launched in 2016, for advanced manufacturing-based innovation, strategy development, idea generation and collaboration. Co-located with the GE Lagos offices in Victoria Island, the Lagos Garage offers year-round series of skills training programs focused on building the next generation of Nigerian entrepreneurs. Till date, 229 entrepreneurs have graduated the program having been trained to use the latest in advanced manufacturing technologies; 3D printers, CNC mills, and laser cutters as well as in business development.
Last year, the company partnered with Lagos state ministry of employment and wealth creation to train 20 final year students and 5 instructors from the five Government Technical Colleges in Lagos state in an intensive one-week training on advanced manufacturing at a pop-up Garage set up at the Lagos State Vocational and Educational Board (LASTVEB) HQ