By Onome Amuge
Georgia's Kutaisi International University (KIU), has set in motion a major recruitment drive aimed at attracting Nigerians to boost its international student numbers.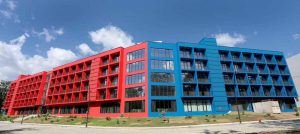 The €1billion western-style campus university,courtesy of a donation from the Cartu Foundation, the charitable arm of BidzinaIvanishvili, former prime minister of Georgia, has been purposefully designed as an international institution along US and European lines.
To attract the brightest and best from Nigeria and other emerging markets, KIU is providing a modern, residential education on a par with leading institutions around the world and will as well, major on teaching and research in science and technology with a view to becoming a hub for innovation and start-ups, and to equip graduates with the skills they will need to compete and thrive internationally.
Speaking on why Nigeria is top of the list for international student recruitment,Magda Magradze,  KIU's chancellor explained that like Nigeria, Georgia is a leading regional economy and the admission of Nigerians to commence from September 2021 onwards,will help build strategic, academic partnerships to foster growth between both countries.
Magradze further stressed that the institution is equally prepared to develop personal and cultural bonds between students, and to equip them with the skills and knowledge they need to realise their own potential.
Highlighting what she believes will be the attraction of KIU for international students from Nigeria, Chancellor Magradze said Georgia is recognised as one of the warmest and most welcoming countries in the world.
"Visitors fall in love with the country and its people. During Soviet times, it was the place people went on vacation – fantastic mountains and coastline, historic cities, great weather, rich in culture, fabulous food and wine," she stated.
She noted that as Georgia's historic second city, Kutaisi is a vibrant cultural centre with an international airport that includes, flights to Budapest, Milan, London, Paris, Rome, Prague,Moscow and Barcelona, and train connections to Tbilisi and the Black Sea coast.
"In addition to the education, it is a fantastic base from which to explore Georgia, the wider Caucasus region and Europe," she added.
Commenting on the university's educational goals, Alexander Tevzadze, KIU's rector, said the institution's goal is to create an international, multicultural academic environment where students receive a world-class, science-based education that will give them the opportunity to pursue careers and compete in the international labour market.
Furthermore, in contrast to many universities which are struggling financially, KIU's mixture of private, public and philanthropic funding is well positioned to enable it to provide sustained investment in courses and facilities for students as it grows.
Teaching is provided in both Georgian and English languages and to enhance its teaching style, KIU has partnered with the British Council to ensure the requisite standard of English-language provision.
Undergraduate tuition fees for KIU's international students are set at $5,500 per annum (which includes all teaching materials); and expected annual living costs are a further $5,000 per annum, an evidence the institution can offer a world-class education at a significantly cheaper price compared to its competitors.
Dwelling on this,Magda Magradze said the affordable fees is a key factor in attracting students to KIU as the cost of undergraduate degrees from leading US and European universities can be 'eye-watering' which puts the highest quality education out of reach for most international students.
She assured that KIU can provide the same educational standards, in some areas a higher standard, for a fraction of the cost of highly ranked universities.
The institution currently offers three Bachelor degree programmes in computer sciences, mathematics and management studies. A fuller range of science and humanities subjects is being added and state-of-the-art science and medical research centres and laboratories are being opened in support of masters, doctoral, and post-doctoral programmes.
Research centres have also been established to attract leading scientists and investment from around the world.
KIU's operating model and course content have also been developed in partnership with the Technical University of Munich (TUM), one of the world's leading universities for scientific research, with new partnerships with other leading international universities and research institutions to be announced in early 2021.
Interested applicants from Nigeria for the 2021 session have been directed to visit www.kiu.edu.ge for information on the financial support packages facilitated by the institution.