Martin
Geospatial intelligence for IGR boost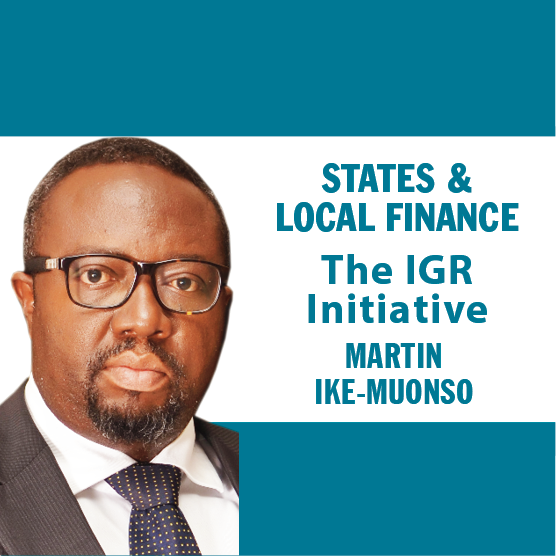 Martin Ike-Muonso, a professor of economics with interest in subnational government IGR growth strategies, is managing director/CEO, ValueFronteira Ltd. He can be reached via email at martinoluba@gmail.com
February 28, 2022527 views0 comments
Geo-referenced data usage in making strategic policy and entrepreneurial decisions and solving complex problems has grown since the 1980s. Its relevance and use traverse virtually every aspect of business and government planning and management, including land-use and infrastructure planning, property tax assessments, access to healthcare, water, education, and other basic social amenities. Geospatial intelligence presents a series of information on attributes of interest in each location and exact coordinates either by maps or other data. In effect, such location-based intelligence facilitates robust insights into the challenges faced and the opportunities at various locations. For instance, in a given site, geospatial analysis can provide rich data on the characteristics defining specific thematic areas of interest such as land usage, streets, economic activity types, mineral resources, etc. Such geo-referenced data can comprise digitized scanned data, databases, remote-sensing, and aerial photography. Governments use this technology and processes to effectively plan and evaluate policy outcomes and strategically boost internally generated revenue. For instance, in Nigeria, many subnational governments have taken advantage of geo-referenced data in land administration, value analysis, land records management, and property taxation to grow their internally generated revenue.
Geospatial intelligence enables public sector transparency and better citizens' appreciation of the government's efforts. For instance, a web-based geographic information system allows citizens to know the locations of specific projects embarked upon by the government. And beyond the knowledge of the projects is the added ability to evaluate project quality, completion speed, and indicative spending size. Complementary to that is the enhanced opportunity for attracting private sector investments. A good example is leveraging web-based locational data to identify untapped natural resources or undeveloped areas with solid investment return prospects. Subnational governments can also use this window to efficiently market investment opportunities within their regions that interested entrepreneurs can exploit. GIS also permits accurate mapping of land boundaries and registration of owners, users and titleholders developed into full cadastre. It can also efficiently identify land values, plot owners, properties on the plots, and applicable taxes based on those parameters. It also helps identify all residents and the basic taxes they may need to pay depending on their locations. Geo-referenced cadastre also facilitates finding optimal locations for specific citations of public utilities such as roads and rail lines, waste dumps, industrial areas, hospitals and schools.
In general, improvements in the geographic information system and their deployment for good governance will always boost internally generated revenue. Consider, for instance, its use in agriculture, national security, infrastructure planning, and elections. In the case of agriculture planning, it will enable the integration of data and the creation of data intelligence around critical variables comprising soils, yields, production costs, etc. Such insights will naturally lead to improved profitability and incentivize increased private sector participation. In insecurity containment, locational intelligence provides an unbeatable platform for agency collaboration by presenting shared situational pictures, including an early warning on crimes such as gunrunning, kidnapping, terrorism, and gang operations. Its poor deployment in insecurity management substantially accounts for our security agencies' weak control of the situation. It is also a super technology for infrastructure planning and urban renewal. And finally, its effective deployment in election tracking and monitoring eventually results in the enthronement of good leadership. These areas of success make geospatial intelligence the go-to platform for effective public sector governance and an indirect but consequential driver of internally generated revenue.
Additionally, geospatial intelligence internally generated revenue-boosting capabilities for subnational governments also play out through two mechanisms: revenue planning and independent revenue mobilization. Geo-referenced and properly integrated databases provide realistic intelligence on revenue potentials in different locations based on many thematic considerations. It also enables appropriate utility maps for revenue planning and budgeting. Themes can comprise economic activity types, average income, occupation, and taxable assets value at various state and local government areas. Consequently, with proper integration with the databases of other MDA's, geospatial databases can comprehensively enable revenue mobilization processes such as issuance of permits, tax assessments, billing, license applications, and even payments for penalties. In general, geospatial intelligence can frontally address many of the challenges hindering revenue mobilization at state and local council levels. Some examples of these challenges include the absence of a comprehensive, accurate and reliable taxpayer and taxable assets database, proper classification of properties, location of properties, their values and owners, revenue leakages, payments of fines and fees, insecurity challenges faced by revenue collectors and effective payment tracking and monitoring. It is a no-brainer to decipher how geospatial intelligence significantly resolves each of those hiccups when deployed on a sustainable basis.
Therefore, the absence of or poor deployment of properly integrated geo-referenced data leads to massive revenue losses in most states. The loss of property-based revenue due to inadequate ownership records and property value is a commonly cited revenue opportunity that is easily exploitable but lost through the absence or poor deployment of this technology and processes. Despite the numerous advantages and options, it creates for revenue generation, the GIS focus of most state governments has narrowly been around its use for property tax and land use planning while ignoring the numerous other revenue-generating opportunities that it presents. A review of the geographic information system usage pattern by selected states in Nigeria affirms this position.
In the recent decade, Lagos state's success in its internally generated revenue drive and fast expansion in economic growth appears to have much to do with its implementation of a geographic information system. The Lagos state government largely mainstreamed its geographic information system around the property identification exercise [PIE], which identifies every property for tax and general development purposes. Again, earlier this month, the Borno state government announced that it had increased its internally generated revenue by N1.42 billion through optimized ground rents and land title collections. In effect, through a combination of best practice land administration and public sensitization on the payment of ground rents, the state's geographic information systems grew its IGR from N14.6 million in 2017 to N1.42 billion in 2021. In 2012, Nasarawa state government embarked on a N2.7 billion urban planning and land management project using geospatial technology. The project's core was the aerial mapping of the whole state and six selected metropolitan areas and the urban renewal of Lafia, Keffi, and Karu. A critical challenge that the project aimed to address comprised many unregulated settlements, particularly squatter settlements in the Karu area. On the other hand, the Kaduna state geographic information system has enabled the government to create electronic titles for land and properties on the land. That has improved the state's collection of ground rents and land use charges.
The summary of the above review of the state governments' deployment of geographic information systems is their narrowly skewed emphasis on land information systems for tax purposes. There has been minimal subnational government usage of the technology and processes in other areas such as agriculture, urban planning, security management, official statistics collection, and wealth creation, to mention a few. In its simplest, the land information system provides essential information on land ownership and creates avenues for public utility development. It permits the imposition of levies on the value of the land. Such a land value-based tax can be with or without regard to the worth of the property on it. The latter situation embodies property taxation, a highly underexplored tax revenue source. A Business Day newspaper report of June 15, 2016, titled "improved land administration in states seen growing IGR," showed that thirty-four states already keyed in and were doing well in this revenue generation channel. According to the report, within ten months of Lagos state's land information system and administration deployment, it generated N8.1 billion. The revenue receipts from applications for certificate of occupancy contributed approximately 40% of that amount.
Notwithstanding the tremendous potentials of geospatial intelligence in orchestrating the development and boosting internally generated revenue, the realization of those potentials appears distant. The gold standard in geospatial intelligence lies in its database coordination, integration, and sharing, which unlock many of its benefits. Unfortunately, that is not the case with many state governments currently using it. Integration with other databases and traditional maps for deeper insights is complex, leading to the loss of such deeper levels of understanding. Robust GIS systems work better with and interpret existing and a priori collected information. For many state and local governments in Nigeria, such data is generally inconsistent, inaccurate, and outdated. Therefore, many resulting databases are replete with unreliable information not linked or referenced to other MDAs databases and parameters of interest. The third challenge is the capacity and skills for effectively engaging in computerized geo-mapping. Apart from Lagos state and a few others, most of the states in Nigeria lack adequate well-trained Geoinformatics experts. Lastly, although decision-makers in most governments in Nigeria know about the potential of GIS, they are nevertheless reluctant to commit the right level of financial resources to make them a reality.
Given its rating, benefits, and potential for IGR expansion, there is no question that subnational governments mainstreaming of its deployment will speed up their development. The fresh steam of independent revenue expansion aspirations on property taxation derives from geospatial intelligence. While many state and local governments appear to have deployed such systems, the evidence on the ground shows substantially inchoate data system adaptation lacking sustainability. However, that property identification for property tax was the entry point for countries with great successes of this technology is not debatable. But there are fundamental considerations for effectively institutionalizing the technology and processes for sustainably reaping those benefits for socio-economic growth and independent revenue enhancements. Subnational governments need to resolve whether geospatial intelligence capacity and databases will be stand-alone or sandwiched into either urban planning, information technology, or communication departments. The lack of clarity on this organizational platform for geospatial intelligence deployment can destabilize, leading to less than desirable outcomes. For most governments, geospatial intelligence is merely a unit within the Internal Revenue Service whose function does not go beyond land administration. Second, it may also be necessary to determine the commercialization or otherwise of the resulting databases and associated visualization platforms. Commercialization enables the use of the resulting information and insights by a wide range of consumers. Such paying users can be private land developers, private investors, or government agencies. Such a choice is also necessary for either outsourcing it, deciding on sole government management, or jointly with the private sector.