International brands Adidas, Dom, Mossman, Gucci, Fendi, Cool are due to establish their presence in the Imo-Tianjin (China) International Market, also known as Ngor-Okpala Leather & Allied International Market. It has also engaged the services of one of the best UK marketing consultants to help create more international awareness. As a result, Imo State will be a place of attraction and a hub of tourism, CHRIS IGWE, managing director, Imo-Tianjin, tells Business A.M. DIKACHI ELEMBA
A lot of firms, both local and foreign, have shown interest in the Imo-Tianjin International Market, and now a foreign marketing consultant has been appointed, could you tell us the reason?
Basically, a lot of interest groups are coming and these interest groups have seen the vision. Yes, we also have gone far to get a marketing consultant, an international reputable marketing consultant from the UK because he knows the terrain of Africa. He has worked in other countries in Africa and Nigeria before and is coming in to help us galvanise international awareness for the market. Because the market, as I said, is the first of its kind in the Southeast of Nigeria and West Africa, and basically in Nigeria, where leather products are being sold.
The essence of the consultant coming in is to help us to bring brands that have indicated interest in the market because of most of the products we buy here in the east, some are fake.
But when the real brands come and establish their stores you will get the real products and this creates competition in the system allowing our people to understand what branding is all about.
For example you will see Gucci, you will see Adidas, you will see Fendi, Dom, Cool, Mossman. All these are brands that have indicated interest.
Most of the things we buy today are just copy brands, but when these foreign brands come, because the market is made up of two sections; one section is for made in Nigeria products for export. Another one is where people will showcase their products, where brands are going to be, where those who want original brands can go and buy the original brands of their choice.
So, the consultant is coming to bring in these foreign brands. And we are setting a section aside, maybe two complete buildings for these brands. We believe God, it will also help to move Imo State forward in areas of fashion, making the state a hub of tourism, a tourist's attraction; it is a good thing coming on board. And the young man is known and we are believing that he will see Imo as a new ground for them to actually take the opportunity of what is here. So, we have the potential and I believe that with what we are doing the sky is just the beginning.
When do we expect completion of constructions and actual opening of the market?
I have just given you the layout, the actual construction is on. First of all, we want to get the site cleared, because when you get the site cleared, what they call the layout, mapping where these particular sections will be, they will identify the sections, and then put the sign posts, the residential area, the industrial area, the export zone, the real market zone and the semi-conferences and the commercial utilities areas. Now, these things are where we are now.
So, we are doing planning, you know construction entails a lot; you have architectural design, you have planning, which is the layout design, then you also have the environmental design, which has to talk about the roads, the environmental impact assessment analysis that helps you create the roads, the drainage systems and the rest of them, so that you don't have water logs.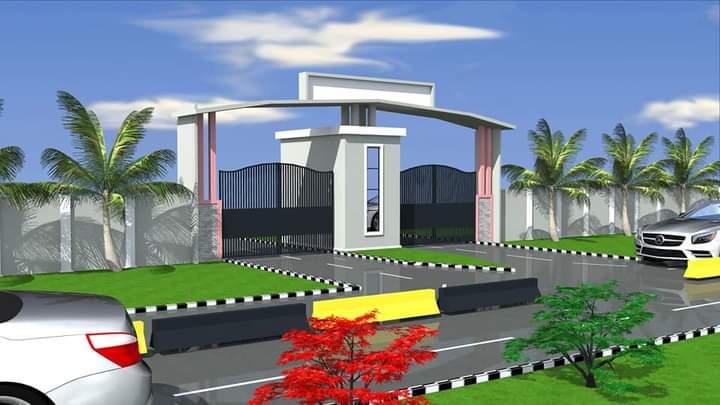 You need to identify the ups and downs of the land, the topography of the land before the actual construction can start. So, right now, we are identifying the zones after which the perimeter fencing starts and then more construction.
Already, we have signed up some of the construction companies that are ready to partner with us. Some of them have registered and identified with us, and we have signed MoU with four of the companies.
From inception we have BA Protech from South Africa who are part of the project. We have been discussing it with them and they have been here several times. They have also met the government, we have met with them, they have indicated high interest and; we have exchanged MoU drafts. So, I believe in a couple of weeks this April, the MoU will be finalised. They have gone and will be back again in Imo and we will conclude the MoU.
We also have other construction companies, real estate developers, those who came from Abuja, they have also met with us and indicated interest, and we have been discussing with them and they have identified the areas or lots that they want to take to begin their constructions. So, they are just waiting for the layout to come out, and MoU drafts have been exchanged. By this April all will be fully signed. So, for the speed of work we are sure.
In a big whopping project like this, banks play important roles, has any bank been involved in this project?
We have been discussing with some banks, and we have been able to establish an off-taker's account with Union Bank. Union Bank has agreed in most of our discussions to partner with the off-takers, the market associations to help them pay up for the shops when fully completed. So, I think the Centre has done a good job, packaging this particular project.
For the off-takers we brought in Union Bank to cushion their anxiety of how much a shop is going to be. We have agreed that the minimum a shop is going to be is N3.5 million and then pay over a period of time as may be agreed between us and Union Bank. Union Bank has indicated interest to do that and to take care of the off-takers and for that already, they are not disturbed about it.
With all that concluded, is there any other thing the Centre is looking for again?
What we are looking at now is just for us to let the town planners do their town planning. Immediately they finish their town planning, that is planning and parcellation; those interested under public private partnership (PPP) will begin to identify themselves.