Commodities
Gold in pounds rose after U.K.'s shocking election result
June 9, 20171.4K views0 comments
The U.K.'s shock election result sent gold rallying, but only for British investors, while in the rest of the world, prices barely moved, Bloomberg reports.
Gold priced in sterling rose as much as 2.2 percent to 1,007.52 pounds an ounce, a seven-week high. The move was driven by the pound, which sank after Prime Minister Theresa May failed to win an overall majority.
In dollars, gold retreated 0.4 percent to $1,273.37 an ounce as the dollar strengthened. Bullion is set for the first weekly loss in a month, sliding 0.5 percent.
"The political situation is anything but strong and stable," said Jonathan Butler, a precious metals strategist at Mitsubishi Corp. in London. "There is quite a bit of potential for support for gold, certainly in sterling and possibly also in dollars, in the near term."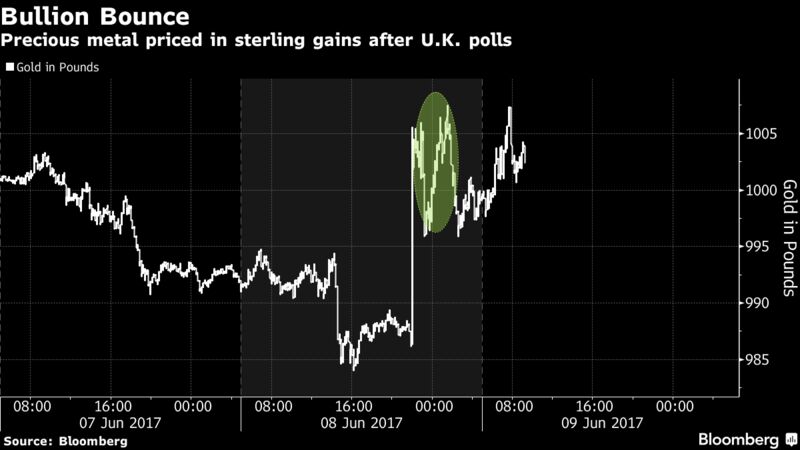 Some investors took advantage of higher prices for sterling-priced gold to sell positions, according to BullionVault, a London-based online trading platform.
"Traders were not as active as they were during the early hours of the Brexit referendum result," Adrian Ash, head of research at BullionVault, said in an email. Volumes were four times higher than normal from 10 p.m. London, when the exit polls were released, to 9 a.m., he said.
In other precious metals:
Silver fell 0.6 percent to $17.3370 an ounce
Platinum was little changed at $938.99 an ounce
Palladium added 0.2 percent to $862.34 an ounce
---
Courtesy Bloomberg