Commodities
Gold loses shine as firm dollar rises on risk appetite 
March 27, 2023144 views0 comments
By Onome Amuge
Gold prices were down on Monday ,following  a volatile week that saw bullion prices north of the key $2,000 figure on account of US dollar rates rebounding from 7-week lows, while the dollar index rose 0.1 per cent.
Reports also showed that a firm dollar made bullion less affordable for oversea buyers, while investors' interest were focused on rescue measures for struggling banks as fears over a potential liquidity crisis in the global banking sector persisted.
As of Monday morning, Spot gold was down 0.1 per cent to $1,975.76 per ounce, while U.S. gold futures also declined 0.3 per cent to settle at $1,977.20 per ounce.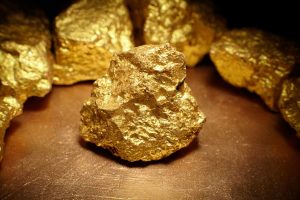 Bart Melek, head of commodity markets strategy at TD Securities, remarked that a somewhat firmer dollar and a rebound in equity markets and risk appetite are probably what has driven gold lower. Melek, however, remained optimistic that bullion was likely to get continued support from big macro developments.
Commodity market experts also attributed the dip in gold price to the bounce back witnessed in Us dollar rates from its recent lows. They observed that US dollar gained in recent sessions on upbeat US current account deficit (CAD) and new home sales data, after hitting 7-week low in the week gone by.
They went on to add that gold is expected to remain in the range of $1,920 to $2,010 per ounce and may continue to retrace from the upper hurdle. However, when asked about the strategy for gold investors, they advised investors to maintain 'buy on dips' and avoid taking short position as breakout above $2,000 per ounce on closing.