Commodities
Gold sees unexpected rally as U.S.- China trade fears eases
September 19, 2018745 views0 comments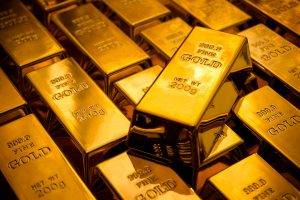 Gold prices witnessed an unexpected rally last week, with prices hitting fresh daily highs and trading firmly above the $1,200 an ounce level as U.S.-China trade tensions ease.
The yellow metal received a well-deserved boost early in the session, with the U.S. dollar index pulling back to 94.74 and pushing the December Comex gold futures to $1,213.10, up 0.91 percent on the day.
"What we've seen is that gold prices have been depressed because of the angst surrounding trade fears and the repercussions on the FX markets that flow through that," Daniel Ghali TD Securities commodity strategist asserted.
"Late this early session we had some comments that the U.S. is looking to resume negotiations with China on the trade front and that has bolstered metal prices across the board," Ghali added.
The Wall Street Journal reported that Washington has pushed for a new round of trade talks with Beijing before introducing additional tariffs against Chinese imports.
This comes after Donald Trump, U.S. President said last week that his administration was getting ready to finalize an additional $200 billion worth of tariffs on Chinese goods.
Improving trade relations between U.S. and China is a much-needed step for gold prices, which have suffered this summer, said Jim Wyckoff Kitco's senior technical analyst, adding that the market needs to see better precious metals demand coming from China.
"The ideas that the world's two largest economies may be moving closer to a trade agreement can be extrapolated to mean an eventual trade agreement would produce more U.S.-China commerce and in turn see better demand for precious metals coming from China," Wyckoff explained.
George Gero, RBC Wealth Management managing director also pointed to the U.S. dollar movements as well as possible inflation on the commodity front as the reasons for gold's gains.
"Storms in the Carolinas are reminding traders of growing area impairments of commodity-growing areas, last time PR, TX, FL, CA on fire etc., and now worse hurricane hurting crops again, possible inflation from commodity prices, as well as dollar pullback and possible new trade talks with China," he said in a note.
Above all, the key U.S. economic report was also supportive of higher gold prices on last Wednesday, showing that the August producer price index (PPI) missed expectations, declining 0.1 percent, the first decrease in one-and-a-half years.
Another good sign for gold is that analysts see this short-covering rally as sustainable.
"It appears that the market as a whole is running out of bullets on the short side. Money managers' positions have been very much extended on the short and we've seen lackluster interest on the long side," Ghali pointed out. "The commercials, which are essentially the producers, are long for the first time since 2000."
"So these are factors that are conducive for a short-covering rally for the precious metal," he noted.