Commodities
Grain prices rise amid hostile weather, supply worries
February 16, 2021453 views0 comments
By Onome Amuge
Grain futures on the Chicago Board of Trade (CBOT) gained more grounds as wheat, corn and soybean recorded upticks amid frigid weather concerns in the U.S.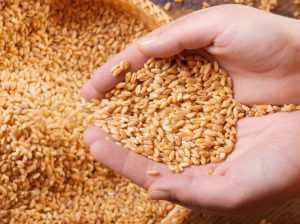 The most-active wheat contract on the CBOT gained 2.3 per cent at $6.51 a bushel, its highest since February 9 at $6.57 per bushel.
Meanwhile, soybeans rose for a third consecutive session while corn also rebounded after closing in the red on Friday. Soybean was up 1.2 per cent at $13.88 per bushel while corn climbed 1.4 per cent to stand at $5.46 per bushel.
Commodity Weather Group, a Washington DC based meteorological organisation, last week predicted that an estimated 10 per cent of the U.S soft wheat crop and 15 per cent of the hard wheat crop were at risk of damage from winterkill caused by freezing temperatures.
Ole Houe, director of advisory services at Australian based agriculture brokerage, IKON Commodities, said there are concerns about winter kill for grains in the U.S as the intensely cold weather persists, driving prices higher as a result. He however asserted that it is a bit early for dealers to get worried about supply as weather conditions are likely to witness a turnaround.
The rise in the price of wheat poses more worries for import countries, including Nigeria, as Russia, an alternative market launched its wheat export tax on Monday as part of its efforts to reduce flood inflation amid the second wave of the covid-19 pandemic.
This according to market reports, will see Nigeria and other importers buy the commodity at a higher rate, further distorting the prices of wheat flour, an essential derivative of wheat, in the domestic market.