Finance
Frontpage
GTBank progresses with financial Hold-Co restructuring in Nigeria, London with CBN's, SEC's nod
November 5, 20201.2K views0 comments
By Charles Abuede
Bank to delist from NSE, LSE, and re-register as HoldCo on official list of NSE, LSE concurrently
Bank's issued shares to exchange on a one-for-one basis for shares in HoldCo
Guaranty Trust Bank (GTB) Plc, Nigeria's Tier-1 lender, is progressing with its planned financial Hold-Co restructuring having obtained approval-in-principle from the Central Bank of Nigeria and a "No-objection" from the Securities and Exchange Commission (SEC).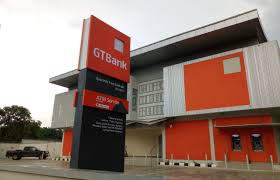 The bank is moving is proceeding with the formal process of the restructuring, according to sources familiar with the development.
The formal process will involve the implementation of the conversation procedure pursuant to the CAMA scheme of arrangement between Guaranty Trust Bank and its shareholders.
The decision to go abroad on the restructuring was based on a consensus of the bank's board of directors following a comprehensive strategic evaluation of the operating and highly-spirited environment of the nation's banking sector in the near term.
It is understood that under the restructuring, it has been proposed by the board that the issued shares in the bank be exchanged on a one-for-one basis for the shares in the financial holding company with the financial institution's existing global depository receipts (GDRs) also proposed to be exchanged on a one-for-one basis for new GDRs to be issued by the financial holding company.
Following the restructuring the bank's board is said to expect that the financial holding company will have greater strategic flexibility to adapt to potential business opportunities as well as other market and regulatory changes than is currently the case.
The bank will now move to seek the approval of the scheme by its shareholders, relevant regulatory authorities and Nigeria's federal high court.
It is positioning itself for an organisational structure that can be likened to a significant number of major financial institutions worldwide.
The holding company is expected to be regulated by the apex bank as an "Other Financial Institution (OFI)", which is listed on the official list of the NSE and the LSE in London; and will concurrently see GTB then gets re-registered as a private limited liability company under the relevant provisions of Nigeria's corporate legislation after being delisted from the official list of the Nigerian Stock Exchange (NSE) and the London Stock Exchange (LSE) initially.