Frontpage
Higher cash flow helps Shell pay down debts, boost profit to $3.6bn in Q2
July 27, 20171.8K views0 comments
Higher cash flows amounting to $11.3 billion in the second quarter enabled Royal Dutch Shell Plc to pay down debts and boost its profit to $3.6 billion, according to the company's financial result for the quarter released Thursday.
The rise in cash flow from operations was the highest since the oil price slump started in 2014 as asset sales and cost cuts helped Shell, Europe's largest energy company, achieve profit and reduce debt, a report by Bloomberg noted.
The consensus-beating second-quarter performance showed how Shell's response to the worst industry downturn in a generation — the $54 billion takeover of BG Group Plc last year, deep cost reductions, and the disposal of less profitable assets — is paying off.
"They bought BG, they're shipping costs out of the business, cash flow is very robust and the industry itself is learning to live with oil at these prices," said Brendan Warn, a London-based analyst at BMO Capital Markets. "Shell is showing it's not just about disposals, but the entire business itself that is driving earnings."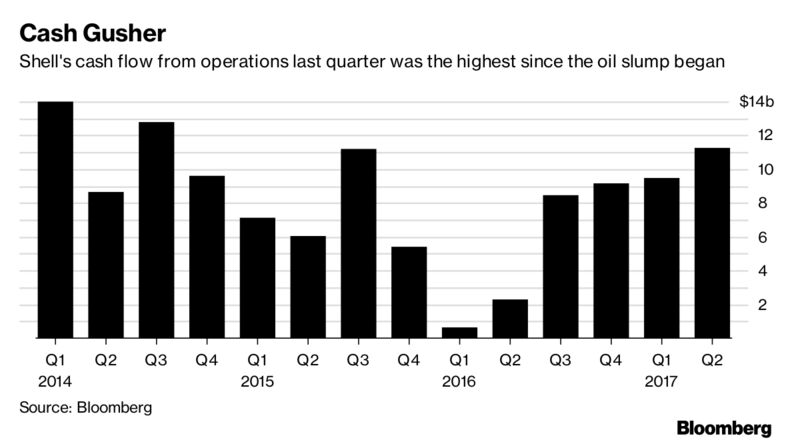 Shell's peers Statoil ASA and Total SA also reaped the benefits of cost cuts made in response to the plunge in oil prices three years ago. After the best first-quarter performance in years, profit growth for companies that have yet to publish second-quarter results including Exxon Mobil Corp. and Chevron Corp. is expected to far outstrip the 8 percent gain in benchmark Brent crude in the second quarter.
For Shell, rising earnings and falling debt also ease concern about the company's ability to maintain its dividend as oil prices remain around $50 a barrel, half the level of 2014. Chief Executive Officer Ben Van Beurden has made reducing borrowings his top financial priority and the company's gearing, or a ratio of net debt to capital fell to the lowest since the end of 2015.
"Shell's strong results this quarter show that we are reshaping the company following the integration of BG," van Beurden said in a statement. "I am confident that we are on track to deliver a world-class investment to our shareholders," he said, adding that there's still a need to remain disciplined on costs with oil prices at current levels.
Cash flow from operations rose to $11.3 billion from $9.5 billion in the preceding quarter. Gearing dropped to 25.3 percent. Net debt fell a third straight quarter to $66.4 billion from $72 billion in March as the company sold assets from Canada to Australia as part of its $30 billion divestment program.
Shell's adjusted profit more than tripled to $3.6 billion, beating analyst estimates of $3.36 billion.
Adjusted downstream profit was $2.53 billion compared with $1.82 billion a year earlier.
Adjusted upstream profit was $339 million compared with a $1.3 billion loss a year earlier.
Total oil and gas production was little changed at 3.5 million barrels of oil equivalent a day.