Markets
Hot spots in emerging markets this week: Turkey, Ivory Coast
May 15, 20171K views0 comments
After another week of gains for emerging markets, much investor focus will be on Turkey, whose leader, Recep Tayyip Erdogan, is due to visit the White House.
In South Africa, President Jacob Zuma's grip on power is hanging in the balance ahead of a court ruling, while concerns are deepening over a military revolt in the Ivory Coast just weeks before a possible debt sale.
Elsewhere, Mexico's central bank may end its tightening cycle as policy makers meet to decide interest rates.
Turkey
The lira was the biggest decliner in emerging markets last week, dropping 0.8 percent versus the dollar, even as the MSCI Emerging Market Currency Index clocked up a second consecutive weekly advance.
The slide came as U.S. President Donald Trump approved the arming of Kurdish militants in Syria, despite the objections of the Turkish government.
President Erdogan is scheduled to meet Trump on Tuesday in Washington, putting traders on alert for signs of tension between the two leaders.
South Africa
President Zuma's political future may hinge on a ruling by the nation's top court on Monday on whether to force parliament to hold a secret vote on an opposition motion of no confidence in his leadership.
Although displeasure with Zuma has intensified, the African National Congress's leadership has rebuffed all opposition-led attempts to remove him. The political wrangling has pared the rand's advance this year to 2.8 percent from as much as 12 percent.
Mexico
Mexican policy makers are forecast to keep the nation's overnight interest unchanged at 6.5 percent on Thursday. It would be the first time since August that they hold borrowing costs. The central bank has more than doubled the rate since the end of 2015.
The peso has strengthened 10 percent this year, beating its nearest emerging-market peer by more than a percentage point. Its three-month implied volatility declined to 12 percent on Friday, the lowest level since August, while Commodity Futures Trading Commission data show bullish bets on the currency have surged to the highest level since July 2014.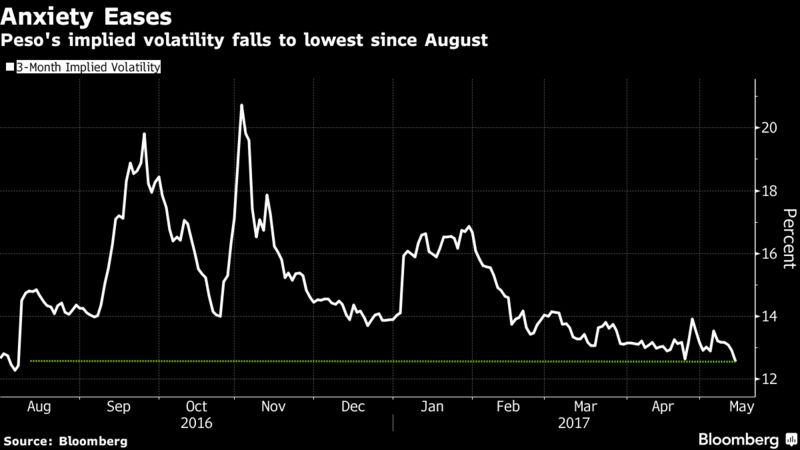 Ivory Coast
A military revolt over pay in Ivory Coast entered a third day on Sunday, just as the nation readies an international bond sale. Unrest in cities such as Bouake, the country's second-largest, and other parts of the West African nation began even after President Alassane Ouattara on Thursday said the government reached a settlement with troops that organized a mutiny in January.
Read More: Ivory Coast Unrest Continues as Rebel Soldiers Snub Warning
The revolt spurred the biggest weekly gain in cocoa futures in more than five years on concern that supply from the world's top producer and exporter may be disrupted.
Courtesy Bloomberg