Oyeleye
How big is Africa's economy? (2)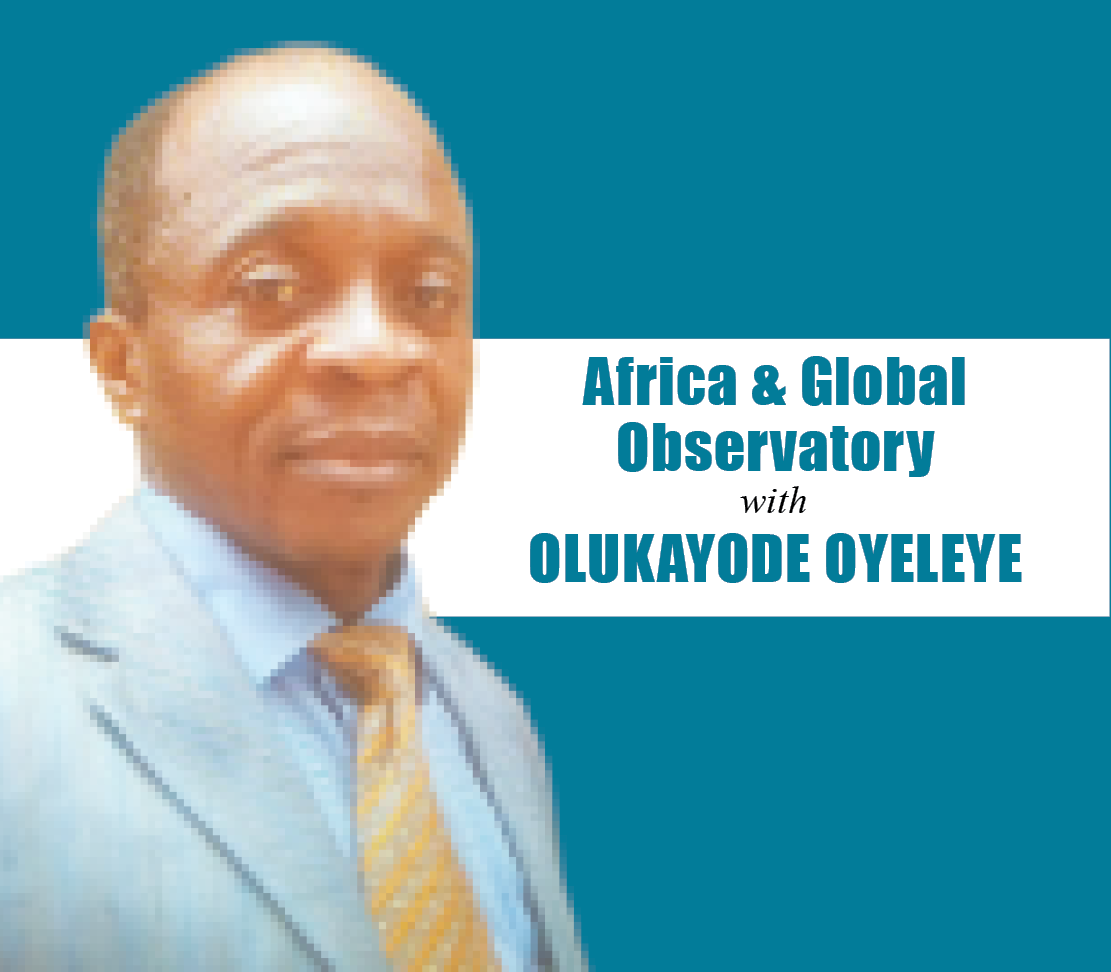 Dr. Olukayode Oyeleye, Business a.m.'s Editorial Advisor, who graduated in veterinary medicine from the University of Ibadan, Nigeria, before establishing himself in science and public policy journalism and communication, also has a postgraduate diploma in public administration, and is a former special adviser to two former Nigerian ministers of agriculture. He specialises in development and policy issues in the areas of food, trade and competition, security, governance, environment and innovation, politics and emerging economies.
August 5, 20191.5K views0 comments
CONTINENTALLY, AFRICA has presented an assortment of manifestations over a period of time. With the benefits of hindsight and observations in contemporary times, Africa can be described as a continent that is not in haste to transform politically, economically, scientifically, technologically or socially. Or, how else could we describe the avoidable shortcomings that have characterised the continent in all of these parameters, and more?
While a lot of economic activities and programmes are unfolding in Latin America, Asia, the Pacific, Europe and North America, Africa has largely remained 'under the radar.' European companies, particularly of the west and central, showcase their multi-billion euros football tournaments, generating a fortune beyond the field of play to sponsorships, promotions and TV rights. Apart from these, the smokestack industries of industrialised Western countries still buzz away with enormous profits. The ICT industry is breeding innovators, such as Alphabet, Amazon and Facebook, spawning billions of dollars wealth and creating employment opportunities across the developed world.
Informal economy in Sub-Saharan Africa (SSA) remains among the largest in the world, although this share has been very gradually declining, suggested the International Monetary Fund (IMF) recently. The IMF pointed at "significant heterogeneity in the size of informality in SSA, ranging from a low of 20 to 25 per cent of formal sector output in Mauritius, South Africa and Namibia to a high of 50 to 65 per cent in Benin, Tanzania and Nigeria." Although, India has a disproportionately high population of informal sector operators, its economy is quite different structurally and in magnitude.   
The EU-wide informal sector as a percentage of the total population stood at between eight per cent or 32 per cent for Bulgaria and Luxembourg respectively on either side extreme. The informal, or 'shadow,' economy – by one estimation – is as big as $1 trillion.  In the United States, it is larger than the official output of all but the upper crust of nations across the globe. Added to the informality of most economic activities are the challenges of many semi-formal extractive industries. A March 2013 World Economic Forum (WEF) report showed that, "although Africa comprises 54 countries, each with their unique challenges and opportunities, many of Africa's economies are highly dependent on extractive industries. This makes them vulnerable to shocks when commodity prices fluctuate."
The WEF report added, however, that diversification is taking root in these extractive industries. "Many African countries are actively seeking to break their over-dependence on extracting minerals: Kenya, for example, is pushing the development of its ICT sector. Continent-wide, over the past 100 years, there hasn't been enough emphasis on this type of diversification." Diversification still remains below what is expected of a continent now. This, in part, could be due to emphasis mostly on commodities in their raw, unprocessed forms.
Combined, Ghana and Cote d'Ivoire produce most of the world's cocoa. The cocoa supply chain is highly consolidated, with just a handful of companies controlling the processing of cocoa and the manufacturing of chocolate. While the average farmer will make between $1,400 and $2,000 profit a year, at most about $5 a day, with six to 10 dependants, each of them – in essence – will be living on between $0.50 and $0.84 a day, well below the World Bank's extreme poverty line of $1.25 a day. The same goes for coffee in Cote d'Ivoire and Uganda, or tea in Kenya.
It was realised recently that many African countries under-estimate the sizes of their economies. This led to a flurry of rebasing activities in attempts to bring up near-realistic values. Within the past five, years, no fewer than three major economies have been rebased, namely: Nigeria, Kenya and Ghana. Nigeria rebased its economy in 2014, followed by others. Although it is important to have up-to-date statistics, this will not of its own lead to economic prosperity or change the reality on ground, as observed by a United Nations Development Programme (UNDP). The report noted that, "whilst GDP rebasing is a good economic practice that will provide the governments with relevant tools for tackling economic challenges such as growing the economy, fighting poverty and creating jobs, it is important to note that there are other implications arising from it. This is especially so when poverty, inequality, youth unemployment, insecurity and gender inequality are still entrenched in the economy."
Nearly 40 countries in Africa have either discovered or are currently exploiting oil and gas resources. But the socio-economic impacts are disproportionately low and have not translated to diversification. In reality, Africa needs to diversify and significantly reduce its focus from being exclusively on resources in some cases, single commodities. Lemma Senbet, executive director of African Economic Research Consortium (AERC), is a professor of finance and the director of the Centre for Financial Policy at the Smith School of Business, University of Maryland, US, "I think economic diversity is one of the areas that Africa has been weak [on] for a long time. We tend to grow fragile, single commodity [driven economies which] is non-inclusive. We should diversify," he reasoned.
He explained that, "whether it's oil in Nigeria and Angola, coffee in Uganda or copper in Zambia, single-commodity domination of an economy can end up shackling growth." This determines, to a significant extent, the susceptibility of African countries to economic shocks and fluctuations in currencies and commodity prices. Economies that are dependent on the export of one or just a few commodities or primary products suffer economic stagnation whenever there is a downturn in commodity prices, especially in mono-product economies such as Nigeria, Angola and Zambia.
The November/December 2017 of Africa edition of Accounting and Business magazine had some disclosures, and so was the International Monetary Fund (IMF). The susceptibility of African countries to economic shocks and fluctuations in currencies as well as commodity prices may vary widely. In some cases, the differences are determined by the number of commodities: all are still primary products. China's imports from Africa fell by 40 per cent in 2015, as a result of the country's slowing growth then. The effects in the form of drop in demand for iron ore, oil and other minerals triggered a global collapse in commodity prices. That affected Zambia's copper-export-dependent economy very significantly. In Nigeria, the collapse in oil prices resulted in budget deficits and depleted foreign reserves, culminating in a recession.
As observed by the IMF, Africa's story is not all gloom. "While diversification remains elusive, particularly in sub-Saharan countries, progress has been made in some. Tanzania, Uganda and Kenya, for example, have achieved substantial progress with export diversification since the early 1990s. Sub-Saharan Africa's growth overall is rebounding and likely to be sustained, but only given certain conditions. West and East Africa are leading the way, but Central Africa is struggling. Angola and South Africa are undergoing positive economic transitions."
But debt is obviously rising in the continent of Africa, with the average debt-to-GDP ratio increasing by 15 percentage points from 2010 to 2017. Some countries' debt-to-GDP ratios have multiplied by five during the same period. More worrisome is the fact that countries are not necessarily using this debt efficiently. In the future, countries need to develop the appropriate fiscal space and strategies for service debt. They need to increase investment efficiency, "rethink infrastructure financing, and fully embrace innovation in order to leverage disruptive technologies to boost productivity, especially in the agriculture and energy sectors.
With all these array of constraints, Africa's economy remains stunted, underdeveloped, inefficient and generally vulnerable to external forces. A lot of fixing needs to be done, at individual country levels and on a continental scale. To avoid continual deprivation and economic backwardness, Africa needs to address and correct the various anomalies slowing down its growth and prosperity. Only then can the economy be expected to experience real boom.