Press Release
IBM's Dipo Faulkner is new president, American Business Council
August 10, 20191K views0 comments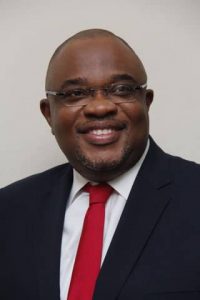 Dipo Faulkner, the country general manager of IBM West Africa, has been elected president of the American Business Council and chairman of its board of directors in Nigeria. His Presidency took effect from August 1, 2019, according to a statement made available to business a.m.
The American Business Council represents the voice of United States' businesses in Nigeria and is an affiliate of the US Chamber of Commerce. Since its inception in February, 2007, the ABC has focused on four broad areas where it hopes its impact would be felt in the medium to long term development of Nigeria: Education, Regulatory Reforms,
Infrastructure and Capacity Building.
According to the statement, Faulkner's election fits perfectly into the overall aim of the ABC given that IBM is at the forefront of capacity building and providing digital infrastructure to businesses across all sectors of the Nigerian economy.
At the election Faulkner is quoted to have thanked his peers for nominating him and assured members that he would continue with the laudable achievements of his predecessor, working alongside members of the ABC, the US Embassy and partners in taking the council to the next phase.
Akinsowon Dawodu, the country CEO of Citibank Nigeria, also emerged the new vice president of the council.
The statement further noted that working with the US mission and other partners, ABC drives trade and investment opportunities between Nigeria and the United States of America in the interest of its member companies and both countries.
"For this reason, the American Business Council is an integral stakeholder in the on-going US- Nigeria Commercial Investment Dialogue which is envisioned to deepen trade investment ties between the U.S. and Nigeria, and designed to foster sustained engagement between both governments on concrete issues of importance to the private sector. The areas in focus are infrastructure, agriculture, digital economy, investment and regulatory reforms," according to the statement.
Faulkner holds a first degree in mechanical engineering from the University of Lagos, and an Advanced Management Programme certificate from Institute de Empressa (IE), Madrid, Spain.
According to the statement, he is responsible for IBM's overall business in West Africa with a focus on deploying IBM's advanced technology capabilities in cognitive, cloud computing, big data and analytics, and mobile security to solve current and future needs of institutions in key economic sectors across the country, also noting that he provides leadership for IBM's relationships and corporate social initiatives in civil society, ICT and academic communities.
"With over 25 years of work experience, he was previously IBM's global business services lead for Central and West Africa, where he was responsible for driving IBM's consulting services business within the region since joining IBM in 2013. Prior to joining IBM, he was a director at Accenture's Nigeria financial services operating group.