Commodities
IITA advocates NSPRI/universities collaboration to curb post-harvest losses
September 7, 2022244 views0 comments
The International Institute of Tropical Agriculture (IITA) has urged the Nigerian Stored Products Research Institute (NSPRI) to partner with Nigerian universities and other research institutes to popularise its research output for effective mandate delivery to curb the impact of post-harvest losses.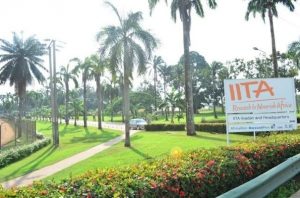 Nigeria loses an estimated N3.5 trillion annually to post-harvest losses, hindering its drive towards food sustainability, according to a report by ActionAid, an international non-governmental organisation.
Lateef Sanni, head of IITA, Abuja Station, said the partnership between NSPRI and other institutions would further enhance the skills of the staff of the institute in their quest to contribute to post-harvest losses reduction in the country.
Speaking at a two-day in-house review meeting themed "Innovative Post Harvest Research: A Sustainable Approach for Achieving Food Security in Nigeria" held in Ilorin, Kwara State, recently, Sanni noted that most of the equipment produced by the institute are not known by smallholder farmers except in locations where the institute is based and very few villages.
"NSPRI staff can enhance their skills more if they collaborate with universities because we have different mandates, interests and skills, hence the need to work together, either South-South, South-East or even outside the country," Sanni said.
"It will help us to disseminate and fine-tune some of the technologies we have to assure the Nigerian populace that we can stabilise food security," he said.
Sanni further harped on the need for collaboration among stakeholders and other research institutes to ensure that research outputs developed by NSPRI become accessible and affordable to all stakeholders in the agriculture sector.
The IITA head observed that though NSPRI has some relevant research outputs, most of the outputs are not known by many of the farmers beyond the locations where the institute is located. He opined that for agriculture to be transformed from mere activity to a business, research has to be moved to the forefront.
He, therefore, emphasised the need for collaborative efforts on how to scale the technology to the extent that they will reach millions of agriculture stakeholders.
"This is because it is the only way to ensure availability, accessibility and affordability of the products and technology going to the market," he added.
Also speaking at the event, Patricia Pessu, executive director of NSPRI, said the meeting was an avenue for researchers in the institute to present their work within the period under review and for stakeholders using NSPRI technologies to give feedback.
"The World Bank record reveals that every one percent reduction in post-harvest losses leads to $40 million in output gains, with farmers as key beneficiaries. For this to happen, post-harvest loss reduction research activities must play a more active role in transforming agriculture into agribusiness," she said.
Pessu pointed out that NSPRI, being a leading research institute in Nigeria, is saddled with the sole mandate of post-harvest research.
As such, she expressed optimism that feedback from stakeholders, among others, would guide the institute towards achieving a sustainable economy and enlarging agricultural output for food security.