WORLD BUSINESS & ECONOMY
IMF wants governments to take precautionary actions against recession
January 3, 2023303 views0 comments
By Cynthia Ezekwe 
Considering the ripple effects of the ongoing Russia- Ukraine conflict on the global economy, and the stifling inflationary pressure on the African continent, and most economies, the International Monetary Fund (IMF), has called on governments to take precautionary actions and be resilient to survive the recession affecting the world globally.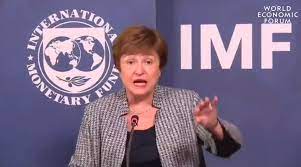 Kristalina Georgieva, head of IMF made this known recently in a  media programme, where she said the world's economy is in for a tougher year as  one-third of the globe is  sliding into recession.
According to Georgieva, it is pertinent for countries to focus on their budget as many nations had gone beyond the advised borrowing scheme.
"What we are seeing in  the world is a more shock-prone world, as we are no longer operating with relative predictability of what the future will bring; What that means for governments is we need to change our mindsets towards more resilience and more precautionary actions," she said.
She added that the outlook for emerging markets in developing economies was even direr due to interest rate hikes and a strong US dollar
The 59-year-old economist also noted that the United States stands a better chance of escaping global contractions due to its resilient labour market.
The US economy is remarkably resilient, and  may avoid recession; We see the labour market remaining quite strong," she said.