By Dikachi Elemba, in Owerri 
Firm to procure 2700 hectares of farmland

To venture into fabrication of tools
With the various investments by JLN Agric Implementation Services Limited and JLN Farm Division to  bring a revolution in the agricultural sector in Imo State and the entire south east, through massive stocking and assembling of agricultural equipment and farm tools,  the government of Imo State has commended the company, saying the company has created various job opportunities in south eastern Nigeria.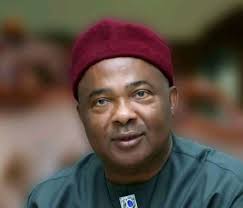 The government also said that the investments made by JLN could attract  reconstruction of the access roads  to the company sited in the industrial layout. The access roads have been abandoned  since the late Sam Mbakwe left office as governor in 1983.
Placid Njoku, deputy governor of Imo State, representing  Governor Hope Uzodinma, made the remarks while  visiting the  JLN companies. The two companies are an  affiliate of United States based  JLN Construction Services, and are into agribusiness,  real estate, agroforestry, design build,  off-grid power solutions and back /forward integration.
The deputy governor who marveled at the  number of tractors and the quantum of farm tools he saw said,  "it is amazing, it offers job opportunities, to train people who can drive these equipment, there are a lot of employment opportunities this company can offer.
"I like to congratulate you,  I want to congratulate this establishment for what it has done here,  it is exactly what we need in agriculture in Imo State and all the states in the south east," he said.
He advised the company to consider the need to advertise, to bring its products and its services to public awareness,  this is as he advised farmers in the South East to visit  the company  for hiring of agricultural equipment or outright purchase.
The company is not only creating jobs for the people but is enhancing the people's desire to go into commercial and mechanized farming, which will create multiple positive effects in the economy of the state, Njoku said.
Meanwhile, the company has planned to  procure 2,700 hectares  of land for farming, 100 hectares in each of the 27 local government areas of Imo State, Chima Ifekwe, director of operations  said,  while commending the Imo State government for the visit,  adding  that his principal, Nnamdi Iwuoha, an engineer of repute,  is the brain behind all these things.
Ifekwe also informed the deputy governor that the company would venture into fabrication of tools,  acting as a feeder firm to other companies that are not into agriculture, and appealed for the reconstruction of the roads in the industrial layout where the company is sited.