By Dikachi Franklin, in Owerri
Governor Emeka Ihedioha of Imo State has constituted an eight man  committee to ascertain the financial transactions of the state under the  leadership of the immediate past governor, Rochas Okorocha, who was in power fro May, 2011 to May, 2019.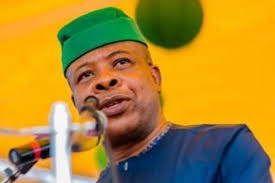 Abraham Nwankwo, a former director general Nigeria's Debt Management Office (DMO), an administrator and bureaucrat will head the committee while Nick Oparadundu, a former local government chairman during the days of former governor Achike Udenwa, is the secretary  of the probing committee.
Other members include Charles Onwunali, Kelechi Omeni-Nzewuihe, Chima  Aliliele, Charles Nwogu,  Udeze Ibezirim and Ify Maureen Okafor.
According to a statement signed by Uche Onyeagocha, Secretary to the Government of Imo State (SGI), the committee would ascertain and document the locations of and balances on all bank accounts operated by Imo State government, its ministries, department and agencies (MDA's) from 2011 to May 29, 2019.
The committee will also review all the financial transactions and where necessary a forensic audit, with a view to ascertain sources of funds and the applications of same.
The committee would further review such disbursements/applications of state resources in order to ascertain the propriety of charges levied on accounts, interest  payment on loans and deposits where applicable; authorization etc and the operations of the Imo State Board of Internal Revenue (BIR).
Other terms of reference include conducting government/financial reviews of key agencies of government with a view to documenting all revenues generated orsubventions/allocations between 2011 and 2019.
The committee being chaired by Abraham Nwankwo would further review the propriety of applications/disbursements of state resources between 2011 and 2019 and recommend measures that would strengthen internal controls and enhance the performance of those key agencies of government of Imo state.
Similarly, Governor Ihedioha has also approved the constitution of a committee to review appointments, recruitments etc in line with the resolutions of the Imo State House of Assembly and this committee is headed by Okey Anyanwu.
The committee will evaluate the recent appointments of head of service, permanent secretaries, solicitor-general, accountants and heads of extra-ministerial departments.
It is also charged with the responsibility to execute all staff recruitments, command promotions, transfers and secondment of officers without following due process from 2015 to May 29, 2019 and applying the public service rules and regulations.