Oyeleye
Is Africa about to implode? (1)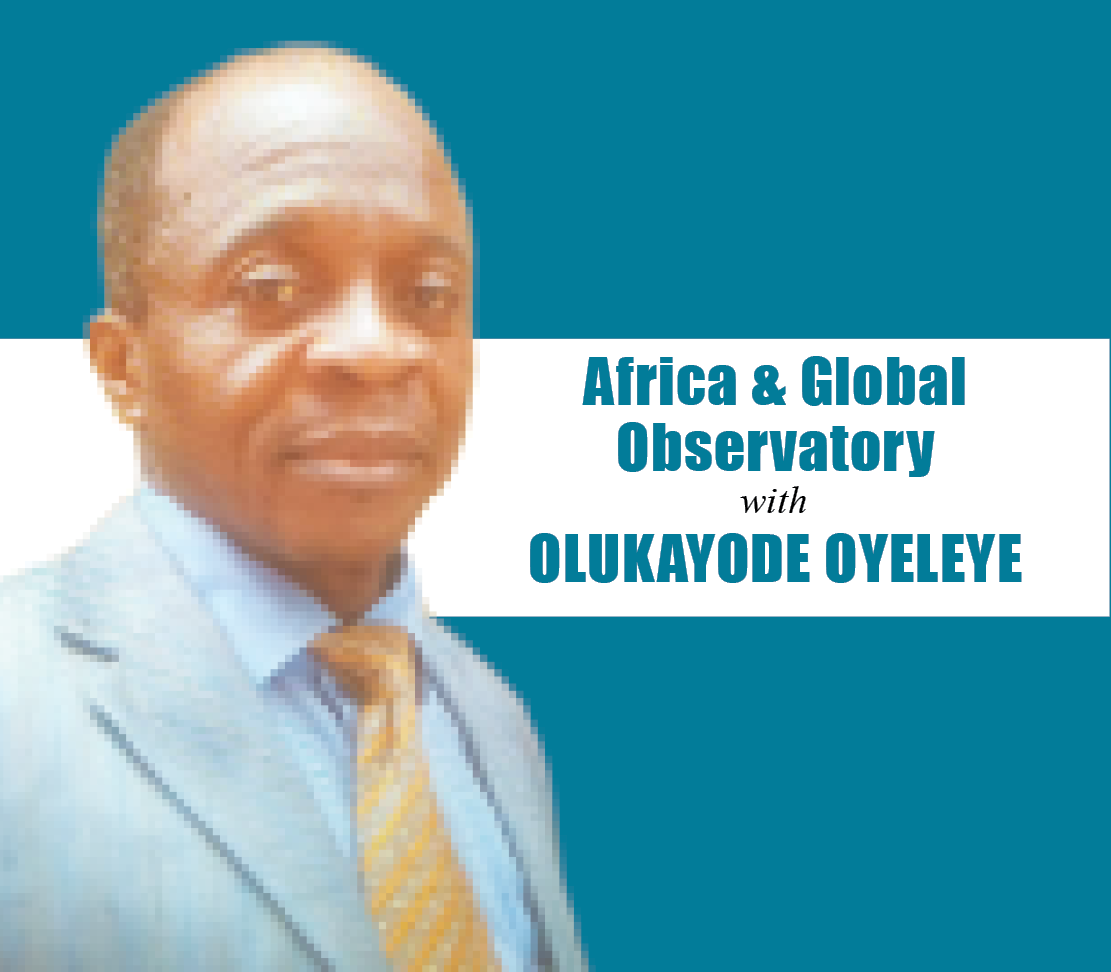 Dr. Oyeleye, a consultant, journalist and policy analyst, can be reached via:
oyeson2@yahoo.co.uk
Twitter: @OlukayodeOyele1
February 7, 2022469 views0 comments
SLOGANS ARE GOOD when they aim at specific subjects, particularly when the spirit and the letter in the slogans are in full agreement. Beyond that, slogans will forever be incapable of solving any existential problem, especially when not backed with sincere, determined, focused, coherent and consistent actions. The African Union's (AU's) campaign on "Silencing the Guns in Africa by 2020" was intended to achieve a conflict-free Africa, prevent genocide, make peace a reality for all and rid the continent of wars, violent conflicts, human rights violations, and humanitarian disasters. Good intentions merely expressed on paper! But intentions are not always the same as realities. The initiative, which came on board seven years after 2013 Africa's ambitious declaration of commitment to silence the guns and end all wars in Africa by 2020, but officially adopted by AU as a theme in 2019, now seems like nothing more than mere sloganeering as very little progress has been recorded in 2022, nine years after. Signs are building up, indicating that Africa is endangered. There are portents of threat from east to west, north to south.
In theory, the Africa Union's Agenda 2063 places great emphasis on a peaceful and secure Africa. But how is that unfolding in practice? According to Aïssatou Hayatou, the 'Silencing the Guns in Africa' Operations Manager at the African Union Commission (AUC), "Silencing the Guns" is a slogan of a project that targets silencing all illegal weapons in Africa. Activities by various individuals and groups handling ammunitions have culminated in West Africa's present insecurity crisis – from criminal gangs to terrorists and jihadists, to drug traffickers and compromised state actors. In fact, more guns are on the loose today than a decade ago and there are more cases of gun violence and attacks now more than in 2013, most of which occur among or between groups of armed rivals and against unarmed populace. The aftermath has been cases of thousands of deaths, displacement of millions of people and an upsurge in cases of refugees. West Africa is very important for so many reasons. One estimate shows that 7.5 per cent of Africa's illegal arms and 70 per cent of over 10 million illegal weapons are in circulation in West Africa, 90 per cent of which are in the hands of non-state actors in Nigeria, a country fully recognised as major source of illicit trafficking of weaponry for terrorist and other criminal networks active in the sub-region.
The control of firearms flows and trafficking has remained particularly difficult for various countries, including in Nigeria, the Sahel and some parts of the Lake Chad region. This is as a result of deliberate armed attacks by criminal elements on national stockpiles in military bases and installations, especially by Boko Haram terrorists and ISWAP elements on security bases and installations. Nigeria has fully recognised that illicit trafficking represents a major source of weaponry for terrorist and other criminal networks active in the Lake Chad and the Sahel region, which in most cases are traced from locations such as Burkina Faso, Chad, Libya, Mali as well as Sudan and the regional part of Darfur. The challenge of porous borders and weak border security mechanisms is costing many West African countries dearly in material and human terms. Nigeria is particularly hard hit as majority of illicit arms in circulation in Nigeria and across the Sahel and Lake Chad region come into the country through weak and illegal porous border routes.
Terrorism has become a lucrative business in West Africa, often aided by rogue officials especially in crises ridden countries like Libya and Mali with sole intent of gun running and trading across conflict areas. In Nigeria, cases of abductions for ransom have risen in the past couple of years, reinforced by the immediate huge financial gains involved. In some other cases and places, narcotic peddling is aided by carrying arms. For instance, Liberia and its neighbours do not produce arms, but the major entry points of illicit arms and drugs have been traced and identified to be more than 170 border points along the borders of Guinea, Ivory Coast, Liberia and Sierra Leone.  There are wide and complex links between illicit conveyance of arms and efforts to control the affairs of the state indirectly or directly. Narcotic business goes with its own peculiar security risks as traffickers are often heavily armed. For this sort of organised crime, the main goal is to maximise profit at the lowest risk of being captured. Dealers in illicit drugs therefore feel a compelling need to protect themselves. In so doing, they embark on purchasing ammunitions and operate on the philosophy that "attack is the best defence." They therefore constitute another form of terror as found in Latin American countries, especially in Colombia. Success of Afghanistan Taliban – essentially thriving on narcotic trade – will very likely embolden and encourage many drug cartels to attempt to seize power with the use of arms and ammunitions elsewhere in the world, including Africa.
Guinea Bissau, a tiny Portuguese speaking West African country of 1.8 million people has been particularly notorious for narcotic trafficking. Since 2007, the UN Office on Drugs and Crime (UNODC) has emphasised the increasing role of Guinea Bissau in the drug trade in the sub-region. What has for many years been a fragile state with a struggling economy – located in between Senegal and Guinea Conakry – is a country that has been through many bloody political crises and a civil war. Guinea Bissau has been struggling with drug trafficking networks. That the problem has persisted for two decades and has become somehow intractable – especially from security perspective – is a major part of the sustained and growing security breaches in the immediate neighbouring countries and in other countries of West Africa further afield. Over time, Guinea-Bissau has become infamous as a "narco-state" in media circles. But this is also an indictment on the leadership of neighbouring countries and the Economic Community of West African States (ECOWAS), a regional body that ought to have taken more proactive steps in helping to curb the Guinea Bissau narcotic and security crises.
Clearly, the security equation in West Africa is incomplete without including the Guinea Bissau variable. That the country needs to commit to countering drug trafficking and transnational organised crime is not in doubt, particularly as this West African Coastal country serves as transit route for narcotics transported from overseas, from where it continues north-east to Europe through the Sahel region by air, sea, through animal transport and alongside petroleum products. And these smuggling methods have gained more popularity. It should not be surprising that the movement of such illicit products is also accompanied by the movement of money. That the drug traffickers may have made an unsuccessful attempt at controlling the levers of power through violent overthrow could be true to the extent that the failed coup d'état against the government of Umaro Sissoco Embalo last week was allegedly masterminded by narcotic merchants. Although the coup failed to unseat Embalo, 11 people were reportedly killed in the process. Among other possibilities, the failed overthrow may have been masterminded by collaborating countrymen with the help of external partners in the illicit trade. The net of investigation into the failed coup needs therefore to be cast rather very widely as the financing of terrorism and coup d'état may be inextricably linked with narcotic trafficking.
The laxity in tracking, seizing and preventing illicit flow of funds in West Africa has been dismal and uninspiring. The reported successful laundering of N18 billion (about $36 million) allegedly moved through Nigeria's financial system by the Islamic State West Africa Province (ISWAP) exposes the need to track and cut off the financial pipeline that fuels terrorism and banditry. Beyond merely identifying how terrorists continued to "mobilise, move and utilise funds," an initiative credited to an ECOWAS agency, the Inter-Governmental Action Group against Money-Laundering, national and regional agencies need to intensify their efforts and collaboration on ending this embarrassing money laundering. The level of insecurity in the country today is clear evidence that the government's current efforts are inadequate. Thus, if the Nigerian government truly means to end terrorism or banditry, it needs to – as a matter of urgency and priority – shut down insurgents' sources of funding, arms, and logistics. This is more so as the Nigerian media reported that the federal government of Nigeria had disclosed at the weekend that 123 companies and 96 others, including 33 Bureaux de Changes (BDC), were linked to terrorism financing.
In Nigeria, small arms and light weapons are proliferating with the unrestricted influx of foreigners from other countries in the sub-region. This was initially disputed, dismissed and explained away by many government officials and politicians until it became a nationwide crisis. How effective the method of checking terrorism financing in Nigeria by the federal government will be is still a matter of conjecture as the mandatory registration of individuals' Bank Verification Numbers (BVN) and National Identification Numbers (NIN) has not made any remarkable impact in putting the money laundering activities of the criminals under control even though the latest discoveries on terror financing were credited to the Nigerian Financial Intelligence Unit. Intelligence information sharing under this circumstance has its own complexities. The northern Nigeria borders on the Sahel region. And the Sahelian countries are faced with serious security problems. Wide expanse of land makes logistics difficult within the Sahel region as borders are porous. What affects Burkina Faso or Niger directly affects Nigeria as the terror groups would require Nigeria for its expanse of land, population and economy to boost their operations.
These are prominent among the reasons that the countries in Africa, particularly at the sub-regional level, must work together to make all safe. The AU and relevant regional blocs – in this case ECOWAS – need to work closely with countries to keep the entire continent safe for all. There can only be meaningful economies in countries that are free from terrorism. And that should be the urgent pursuit of all national leaders now, for the benefit of all.