Companies
Julius Berger Services offers scholarships to students in host communities
November 1, 2022204 views0 comments
By Chisom Nwatu
Julius Berger Services Nigeria Limited, a leading shipping company in Nigeria, has awarded educational assistance scholarships worth several millions of naira to 24 students from Ogbe-Ijoh and Ugbomefa communities in Delta State.
The company gave the scholarships recently when it hosted its Educational Assistance Award Program for Host Communities.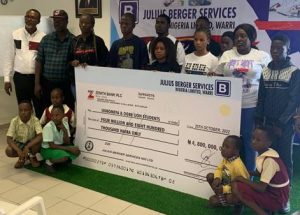 The event is part of the company's ever-expanding corporate social responsibility initiatives in furtherance of its sustainability policy to meaningfully contribute and enhance the development of people in its host communities.
The company, during the event which held at its Warri Port terminal, said the scholarships were meant to assist students in both tertiary and secondary institutions from its host communities.
It said that as a sensitive part of its business culture, the company goes beyond the essential profit-making motive to strongly partner with its host environment and people for mutually progressive development, advancement and growth.
In a keynote speech, Henry Osunbor, sales and public relations manager, Julius Berger Nigeria Services, who represented Rainer Jensch, general manager, admonished the beneficiaries to remain focused in their studies and be diligent in their academic and professional development because of the strategic importance of education to their future.
"It cannot be over-emphasized that education is the best gift society and industry can give to children. It is the only hope for trans-generational sustainability which is also the enduring and driving operational philosophy of Julius Berger," Osunbor said.
He also urged the representatives of the communities and their youth leaders to counsel their children and wards to use the funds for the purpose for which it is provided, adding that the company, as a proactive policy, remains ever mindful and committed to progressively do more to positively affect and lift lives in its host communities.
Sylvester Tiebebedigha, chairman, Scholarship Board of Ogbe-Ijoh Kingdom, Mefe Alagba, secretary-general, Ogbe-Ijoh Kingdom, Toritseju Omagbemi, youth chairman, Amoma, among other representatives of the host communities expressed their profound gratitude to Julius Berger Services for the kind and foresighted developmental gesture.