WORLD BUSINESS & ECONOMY
Kenya's economy in recession, first time in 2 decades, on pandemic induced pressures
January 28, 2021504 views0 comments
By Charles Abuede
Kenya NBS said GDP fell by 1.1% in Q3 2020 after shrinking 5.5% in Q2 2020
For the first time in two decades, Kenya's economy slid into recession in the third quarter of 2020 as curtailment measures introduced by the East African country to slow the spread of the Covid-19 pandemic kept on harming its output.
Consequently, according to report by Kenyan National Bureau of Statistics on Thursday, the gross domestic product (GDP) of the biggest economy in East Africa contracted by 1.1 per cent year-on-year after shrinking 5.5 per cent in the previous quarter (Q2).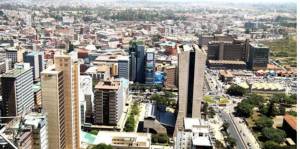 Prior to the decrease in the second quarter of 2020, the economy last contracted in the third quarter of 2008, when post-election unrest and violence brought about a 1.6 per cent drop in the gross domestic product, according to the Nairobi based statistics bureau.
Further information from the Kenyan NBS revealed that the negative output growth could be attributed to the shutdowns in key markets, as well as global travel restrictions which hit the country's source of foreign exchange earnings, which is inclusive of tourism and exports of tea, flowers, vegetables and fruits after Kenya affirmed its first Covid disease in mid-March and later forced a partial lockdown.
Consequently, the nation's GDP report shows that agriculture, which makes up 33 per cent of total GDP, grew by 6.3 per cent when compared with a 7.3 per cent expansion in the April-to-June period. That was helped by tea production and exports, which expanded 14 per cent in the quarter contrasted and a year before, because of the positive climate. Kenya is the world's greatest exporter of the dark commodity.
Education, accommodation and food services, which bore the brunt the most during the country's lockdown, shrunk by 42 per cent and 58 per cent separately. That compares with the compression of 56 per cent and 83 per cent independently in the subsequent quarter. Moreover, the decay in the Education sector was more profound and brought a greater drag on growth in the second and third quarters than anticipated.
However, according to the 2021 forecast by the World Bank in its most recent Global Economic Prospects report, Kenya's economy is projected to bounce back to growth of 6.9 per cent in 2021, from an expected 1 per cent contraction in the previous year; but the country's Treasury estimated that GDP managed to rise by 0.6 per cent in 2020, and expansion could get to 6.4 per cent this year, and later easing back to about 5.5 per cent in 2022 because of the vulnerability created by the year's elections.