Lagos State has for the first time in its 44 year history generated over N1 billion internal revenue in the agricultural sector despite the challenges posed by the COVID-19 pandemic.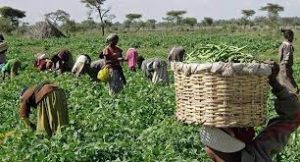 Abisola Olusanya, the state commissioner for agriculture, made the disclosure at the recent 2021 Lagos Food Fest which had the theme, "A Taste of Lagos', and was held at Muri Okunola Park, Victoria Island, Lagos.
According to Olusanya, the ministry achieved the milestone with the support of its staff and officials who went "over and beyond" in 2021 to ensure food security in the state.
Commending officials of the agriculture ministry for their outstanding performance, she said: "For the first time in the history of the ministry, we have crossed over a billion naira in IGR. It has never happened before. We feel that it's imperative that we give them (the officials) some form of appreciation."
Speaking on the importance of the food festival, the commissioner explained that it was a platform for Lagosians to relax and unwind with their families during the festive season, adding that it is a follow-up on the success story of the five editions of the erstwhile annual Lagos Seafood Festival, which was held between 2012 and 2020.
Prior to the new development, Babajide Sanwo-Olu, Lagos State governor had in April 2021, launched a five-year agricultural and food systems roadmap project expected to amass about $10 billion worth of investments within the next five years.
The governor stressed that Lagos could no longer afford to depend exclusively on other states for its food consumption as it possessed the capability to sustain its teeming populace by unlocking  its immeasurable agricultural potential through the implementation of the five-year roadmap projected to result in wealth generation, value creation, food security, promote industrialisation of the agricultural sector and the entrenchment of inclusive socio-economic development of the state.