Economy
Frontpage
Lagos Assembly passes N1.768trn 2023 budget
December 12, 2022198 views0 comments
By Onome Amuge
The Lagos State  House of Assembly, on Monday evening, passed the 2023 budget estimate of N1.768 trillion budget to run the economic affairs of Nigeria's chief commercial and financial state for the 2023 fiscal year.
The budget is about N100 billion above the  N1.69 trillion budget proposal  tagged Budget of Continuity', presented by Governor Babajide Sanwo-Olu presented to the House on October 27, 2022. It is also about N10 billion above the N1.758 trillion passed by the House for the 2022 fiscal year.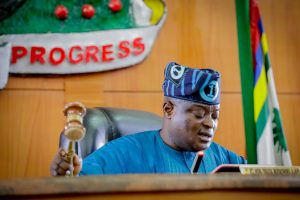 The newly passed budget has a capital expenditure that was increased to N1.190 trillion from N932 billion, while recurrent expenditure was cut down to N748 billion from the N759 billion presented by the governor .
Sectoral allocations also showed that N3,228,396,960 was approved as the new overhead cost of the office of civic engagement for drug abuse advocacy.
Speaking after the budget was passed, Mudashiru Obasa, incumbent speaker of the House of Assembly thanked his colleagues for their collective sacrifice and swiftness in handling the appropriation bill.
Obasa noted that their action showed their love for the progress of Lagos State and hoped that residents would show their satisfaction with the lawmakers for their efforts and commitment towards the development of the state.
The speaker also urged  the executive arm of the government to implement the budget in a way that reflects consciousness of the fact that residents are yearning for more dividends of democracy.