Oyeleye
Latent, potent forces against Africa's prosperity in continental free trade (4)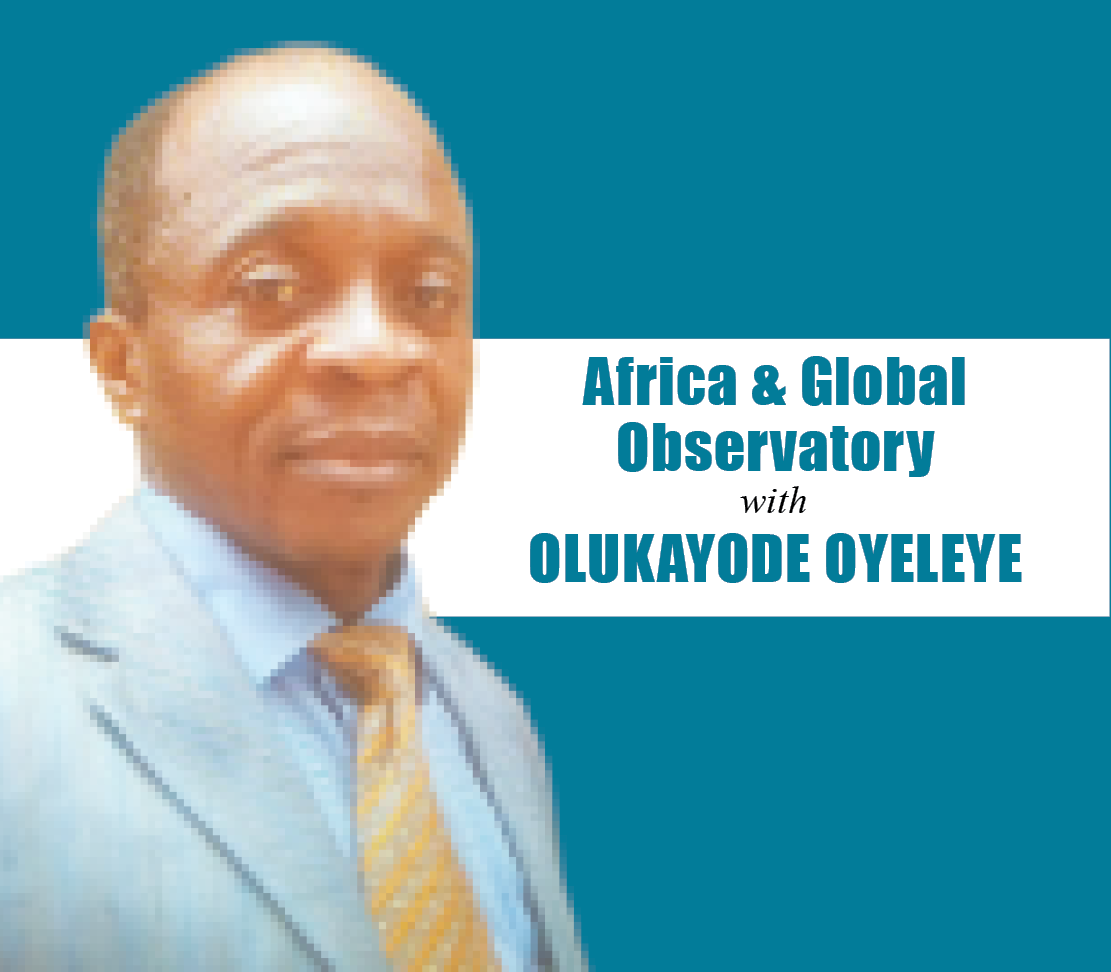 Dr. Oyeleye, a consultant, journalist and policy analyst, can be reached via:
oyeson2@yahoo.co.uk
Twitter: @OlukayodeOyele1
September 14, 20201.1K views0 comments
HISTORY IS NOW IN THE MAKING in Africa. That some related events are happening at about the same time are of great significance for the continent. The African Continental Free Trade Area (AfCFTA) has just commenced operations at its official headquarters. The contest for the helmsman of the World Trade Organisation (WTO) has three Africans among the eight front runners, giving a sense and a prospect that Africa's time to lead the multilateral trade agency has come. But it is important to examine Africa's record of multilateral trade in retrospect and highlight its prospects in the emerging AfCFTA framework in the context of a changing global trade landscape and what having an African at the helms in WTO could mean for the continental trade system.
Africa has not only been a marginal player in global trade, its involvement has been predominantly in commodity exports at the lower end of global value chain, in the extractive industries essentially, as the commodities have been mostly exported in raw, unprocessed forms. Africa has thus been massively short-changed in revenues; its prospects of job creation has been ceded to importing countries that process those commodities into final products which are then exported back into Africa at prices many times higher than the raw materials. These practices are decades long, and became a watershed during the de-industrialisation era in which many local manufacturing and processing companies went out of business because of their inability to compete under deregulated  economies in which importation more fashionable and cheaper than locally processed products. The arguments about price-distorting subsidies removal got hold of many countries that could not manage the aftermath well enough. Many state-owned enterprises were either privatised or commercialised or made to undergo both aspects of transformation. We will not have enough space now to deal with the extent of corruption that followed, particularly in cases involving the adoption of floating currency exchange rate.
Any surprise therefore that the intra-African trade has been less than 20 per cent of the continental trade? The floating exchange rates of national currencies pose peculiar hurdles for intra-African trade as these may not always be as straightforward as when an African country trades with European countries, US or China, in which case the exchange rates involve one foreign currency at every transaction. The competition between countries for the same foreign markets also has its own impacts. They compete rather than complement each other on the international trade turf. And while all that is happening, foreign finished products that can be produced in Africa keep flooding African markets, taking away jobs and foreign exchange. Determining what should be the basis of AfCFTA's implementation will require a retrospective consideration of events that have driven Africa to the backseat in the world economy that has been largely driven by industrialisation, particularly manufacturing. Even with the ascendancy of service industry globally, Africa is yet to make an impressive showing.
Driving Africa's economic growth with agriculture, based on primary product commodity export, will remain an elusive dream. A strong case can be made, not only for primary production, but also for a revitalisation of the processing sectors that once added values and ensured a boost in revenues. This will restore Africa into global reckoning in global trade. In many countries, after a lost generation, the system to ensure their revitalisation will require new paradigms, new underpinnings and would have to be built again from the foundation. Of particular importance is the cotton-textile sector. Africa used to be a significant contributor to the textile industry. That is not the case now as China, US and India contribute 60 per cent of global textile output. The trio look set to remain dominant in the global apparel market size expected to reach $2.6 trillion in 2025, at a projected growth rate of four per cent. In 2009, a team of United Nations officials warned that "the Nigerian textile industry" was "on the verge of a total collapse." This was happening as consignments of textile products worth $2.2bn a year – accounting for a fifth of all annual recorded imports of textiles, clothing, fabric and yarn into the whole of sub-Saharan Africa – were being smuggled into Nigeria, compared with local Nigerian production that shrank to $40m annually.
Over one decade ago, West Africa, cotton contributed between 30 and 44 per cent to total merchandise exports in five West African cotton producing countries, namely: Benin, Burkina Faso, Chad, Mali and Togo. Although Burkina Faso has emerged as the largest cotton producer in West Africa, Mali and other countries in the region have been facing serious challenges in sustaining cotton production as a consequence of the decline in global prices, production constraints, and competition from food crops. About a decade ago, India, the second largest textile producer in the world after China, announced a $1 billion target in organic cotton processing. Climate and environmental considerations will be prominent in cotton production now more than ever before. Annual droughts in Eastern and Southern Africa are now a cause for concern as dry weather, leading to poor harvest, might bring undesirable consequences for food crops as well as non-food crops such as cotton. In addition to cotton, East African tea and coffee fundamentally need policy overhaul to reposition them for intra-African trade. The same goes for cocoa, mainly produced in Cote d'Ivoire, Ghana and Nigeria.
Countries dependent on minerals have different problems to grapple with. Most minerals are not processed or used locally. They have traditionally been exported outside Africa. Now, exporters will have to begin to find export markets within the continent. Many of the "hot" minerals that are drivers of the fourth industrial revolution are in abundance in Africa, particularly in fragile states.  As the demand for green energy technologies continues to increase, the need to extract, process and export them will increase, particularly in cases of copper, cobalt, lithium and rare earths that form the basis of the energy transition. Harnessing them without upsetting the countries' socio-economic balance is of great significance so Africa will not be plunged again into another era of resource-based wars or resource curse. A war-ravaged Burundi, rich in rare earth, may have trouble managing it in the event of a greater global demand. Africa's continental trade in these special commodities will therefore require a growing presence of energy transition companies operating within the continent. Otherwise, their export to countries beyond Africa will continue unabated, or will even increase as global demands rise.
For this reason, rare earth minerals are among the commodities most threatened by the increasingly hostile foreign policies. How to avoid allowing African soil to become a place for wars over foreign vested interest is an important task for AfCFTA. The 2018 data from the US Geological Survey discloses that the US is entirely reliant on imports for its supply of rare earth minerals, with 78 per cent of all such imports coming from China. The seemingly unending US-China trade stand-off is changing all that. For the US, Africa has emerged as an alternative source of rare earth minerals. The Democratic Republic of Congo (DRC), known for nearly 90 per cent of the world's cobalt production in 2018, was valued at $50m in 2018. Yet, the potential of DRC remains unlocked for the nation's overall benefit. Located in the West Cape Province of South Africa is a mine containing a reserve of the world's highest-grade rare earth elements that may upset China's dominance in rare metals' global trade in which they are essential components of smartphones, plasma screens, electric vehicles as well as in weapons. A poor Niger Republic, endowed with uranium, has been exporting to France, to power the latter's nuclear energy-driven electricity supply. That trend shows no sign of abating in the near future. It follows therefore that African countries will continue to export these key commodities to other continents in the dawn of energy transition and renewable energy boom.
The nascent AfCFTA will require big dreams to grow and gain relevance. Dependence on incremental growth and low value commodities will not bring any significance. Development of local and regional value chains will be an essential step towards positioning Africa for the future of the continental trade. Commodities that have to be exported outside in raw forms will no longer be good economic drivers. At the best, they may help some extremely poor countries to raise revenues from foreign exchange. But they are not going to get the best returns for such transactions under such circumstances. It is also time to begin to look at how to develop the service sector to take advantage of the new continental trade frameworks. The faster growth of the sector globally, compared with manufacturing sector, provides Africa an opportunity to 'leapfrog' from agriculture-based economy in its future economic development. Africa can thus justify its ambition of the continent-wide free trade area. The advantages of this are many. One prominent advantage, however, is the significantly reduced demand for funds to set up service industries, unlike the manufacturing industries that require huge investments for establishing factories, particularly in cathedral-based manufacturing. Africa has huge opportunities in the service sector and can use this to jumpstart or complement its trade ambition. That may help the continent more quickly in its integration efforts.