Frontpage
Libya crude floods market again amid OPEC's supply cut decision
August 2, 20171.8K views0 comments
Libya's crude shipments jumped to a new three-year high last month, dealing a fresh blow to OPEC and allied oil-producing nations as they battle to restrict a global supply surplus that's depressing prices for the commodity, Bloomberg reports.
The North African nation shipped about 865,000 barrels a day of crude in July, tanker tracking data compiled by Bloomberg show. That was a gain of 11 percent from June, which was already the highest since at least July 2014.
The pace at which Libya can revive crude sales is critical for the oil market because, along with Nigeria, the nation wasn't bound by Organization of Petroleum Exporting Countries supply restrictions that helped limit supply this year. Domestic conflicts mean the two nations can pump at will while other producer states are depriving themselves of export revenues. Nigeria is also boosting output as a militant campaign is quelled.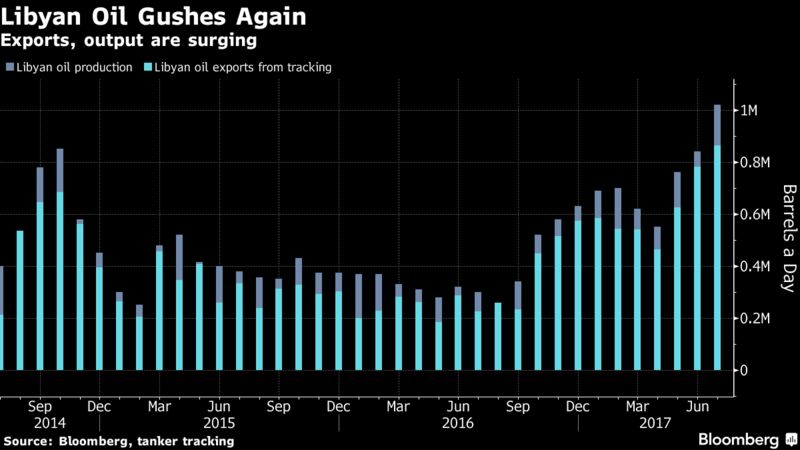 Libya's revival "hurts OPEC's efforts to rebalance the oil market," said Carsten Fritsch, an analyst at Commerzbank AG. It comes at a time when other countries that agreed to curb production are starting to comply less strictly with the accord, he said.
The total output from OPEC members in July rose 210,000 barrels a day from June to reach 32.87 million barrels a day, according to data compiled by Bloomberg. Libya led the gains. An expected crude-price recovery has failed to materialize since January, the start point for when OPEC, along with non-member nations including Russia, agreed to restrict collective output by about 1.8 million barrels a day.
It may be a challenge for Libya to maintain its current rate of exports, according to Torbjorn Kjus, chief oil analyst at DNB Bank ASA.
"It would be a surprise if they could keep production stable," he said, adding that there are still too many groups and people battling for a share of the country's oil sales.