By Business A.M.
A comprehensive aviation industry roadmap, provision of incentives for professionals, establishing partnerships with other countries, investing in education and training, and encouraging entrepreneurship and innovation will stem the tide of brain drain in the aviation sector, Mansur Matazu, a professor and director general, Nigerian Meteorological Agency (NiMet), has said.
Speaking at the recent Federal Airports Authority of Nigeria (FAAN) National Aviation Conference (FNAC), in Abuja, he said the aviation sector can create a more stable, motivated and sustainable workforce that is equipped to meet the current and future challenges of a rapidly changing industry, if these strategies are implemented.
Speaking on the topic:  'Mitigating the Impact of Brain Drain in the Aviation Industry in Nigeria', he said for the sake of safety, professionalism and productivity in the sector, there is urgent need to mitigate the trend.
"Loss of highly skilled professionals can have a negative impact on the quality and safety of air transportation in the country. Brain-drain can lead to reduction in competitiveness of the aviation industry in Nigeria, as it may struggle to retain its skilled professionals and attract new talent.
"Also, the loss of skilled professionals can lead to decreased productivity, reduced revenue, and increased costs associated with training new employees," he said.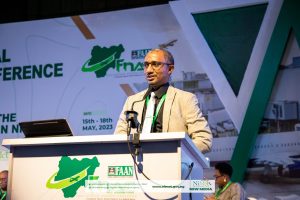 Matazu, who is also the permanent representative of Nigeria with World Meteorological Organisation (WMO), revealed that in the first place, factors such as lack of infrastructure and investment in the industry; inadequate compensation and benefits for professionals; limited opportunities for professional growth and development and political instability and insecurity were responsible for brain drain in the sector, adding that long-term planning, development of infrastructure, training programmes, and policies under a comprehensive sector roadmap would salvage the situation.
"Nigeria's aviation industry has been historically underfunded, leading to limited investment in infrastructure and facilities. This is a significant cause of brain-drain in the industry.
"Aviation requires huge investment in infrastructure, facilities, and equipment to operate efficiently and safely. According to the Nigerian Civil Aviation Authority (NCAA) in 2019, Nigeria would require more than ₦1.5 trillion to fix airports infrastructure gap.
"Meanwhile, lack of investment in infrastructure and facilities has led to: poor working conditions, inadequate training and developmental programmes for professionals, and limited access to modern technology and equipment/instruments," he said.
Matazu, who was quick to recognise the efforts of the current administration, said 'Nigeria can boast to have developed and implemented a largely successful aviation roadmap'.
He, however, noted that an aviation roadmap should identify key challenges facing the industry and outline a clear plan for addressing these challenges.
"With special thanks to the administration of President Muhammadu Buhari, the Ministry of Aviation, the minister and his team, including all stakeholders who have participated in the process, Nigeria can boast to have developed and implemented a largely successful aviation roadmap," Matazu added.
The theme for this year's FNAC i "Sustainability of the Aviation Industry in Nigeria".