People & Places
Meet American born Nigerian, Ini Archibong, Hermés latest watch designer
August 25, 20191.2K views0 comments
Ini Archibong strikes you immediately as a man who is firing on all cylinders. At only 35, his design CV would be the envy of someone in the game for a decade or longer. Having wound his own path through architecture, furniture and design, this week sees him unveil La Galop, his first watch for Hermès. As we reveal exclusive images of the design, we stole an audience with Archibong to get the inside details on this unique collaboration.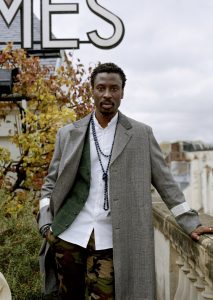 "My earliest memories of creative expression were probably tagging". Not the most predictable beginning to a design career that has led to designing for one of the world's most revered luxury houses. Born and raised in California to academic Nigerian parents, Archibong was encouraged down a similarly high-achieving academic route and was on his way towards becoming an investment banker when he dropped out of college and started up a musical collective before switching gear again into architecture after the kind of fateful happenstance that gives art and design its romance.
"I'd moved back in with my parents, I was living in shame. I was making beats in my bedroom and my mom drove me to the grocery store", regales Archibong in his classic polished Californian drawl. "She went in and I saw an architect's office and was like, 'You know what? F- it'. I walked in and the old man in there was like, 'Can't you see I'm busy?'". From there, in suitably cinematic style, a "tolerance" developed and Archibong was able to experiment, draw and design to a level that eventually led to a bachelor's degree in New York and to gain experience at the practice of Tim Kobe (of Apple store fame) in Singapore.
It wasn't long before Archibong needed to make another switch, taking a step back into school to start a Masters program at the prestigious École cantonale d'art in Lausanne, Switzerland (ECAL) with the express desire to get on a project with Hermès, one of many top-flight design institutions that work with the university.
"I was in love with watches and wanted eventually to design a watch. I didn't know this was going to be the way into it but I had a feeling it could help," he explains. "If you talk to any of the students in this Masters program, Hermès is the holy grail that everybody is there to reach out to. The first question we ask when we walk in is: 'Is Hermès going to sponsor one of the projects this year?' And our year was the first in, like, five years where they weren't."
Undeterred and after a plea to his head of department, Archibong eventually won an introduction to Philippe Delhotal, the artistic director of La Montre Hermès, which led to conversations, coffees and a heartening mentorship that gave Archibong full freedom to create.
The result lands now in the form of La Galop, a finely-tuned riff on the horse stirrup in reference to Hermès' storied equestrian heritage which stretches back to the late 19th century. Though ostensibly designed for women, worn on Archibong's own finely turned wrist, the piece represents a very modern expression of luxury. In steel or rose gold set with 150 diamonds and a matte alligator strap, the watch offsets its luxurious materials with a playful quality in true La Montre Hermès style. Archibong's own acid design test: "Take it back a hundred years, would it still work? And would it work in a hundred years' time?" Only time will answer that one, though we feel this could be just the start of Archibong's chapter with the House of Hermès.
…culled from UK Vogue magazine