Europe
Merkel moves to pressure EU leaders on ending accession talks with Turkey
September 5, 20171.5K views0 comments
German Chancellor Angela Merkel said she'll bring up the future of Turkey's bid to join the European Union with fellow EU leaders when they next meet, raising the prospect of a formal end to Turkish accession to the bloc.
Merkel made the comments to Germany's lower house of parliament in Berlin Tuesday, as the Turkish lira and bonds dropped.
The Parliament built on remarks that the chancellor made in a televised debate Sunday night with her election challenger, Martin Schulz.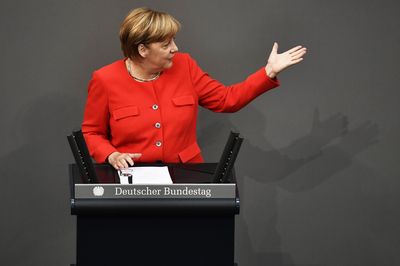 "I will recommend that we discuss the future status of Turkey, including whether to suspend or end" membership talks, Merkel said in her speech to lower-house lawmakers. "This is a process that needs to be considered resolutely, but also carefully."
While EU talks with Turkey are effectively stalled, the escalating rhetoric risks further stoking tensions with President Recep Tayyip Erdogan, who has made repeated references to Germany's Nazi past and said that Germany is becoming "racist."
The Turkish lira slipped 0.4 percent to 3.4492 per dollar at 11:21 a.m. in Istanbul, while the benchmark stock index declined as much as 1 percent, the most since Aug. 23. Ten-year government bond yields rose as much as five basis points to 10.67 percent.
In a special session of parliament less than three week's before Germany's Sept. 24 election, Merkel warned that EU leaders must deliberate over Turkey carefully so as not to display any differences in public as Erdogan looks on. The chancellor last week pledged to respond "more decisively" to Erdogan's government after two more German citizens were taken into custody.
Merkel, whose party officially opposes Turkish membership in the EU, said she has always pursued talks with the government in Ankara according to the principle of "pacta sunt servanda," meaning agreements must be kept.