Companies
MFS Africa partners Access Bank to enhance outward remittances from Nigeria and Kenya
April 3, 2023214 views0 comments
By Business A.M.
MFS Africa, the largest digital payments network in Africa, operating in over 35 African countries, has partnered with Access Bank, Nigeria's largest bank which operates across 17 markets, to expand AccessAfrica remittance corridors.
AccessAfrica is Access Bank's service that allows customers to conveniently transfer and receive money across the world from loved ones and business partners.
According to the International Fund for Agricultural Development (IFAD), migrant workers sent over $95 billion to and within Africa in 2021, benefiting over 200 million family members, majority of whom live in rural areas. Through accessing MFS Africa's hub, Access Bank will be able to send remittances and payments to MFS Africa's footprint of over 400 million mobile money wallets, and over 200 million bank accounts across more than 35 African markets.
The partnership is expected to provide simplified transfers for AccessAfrica customers, enabling real-time, cost-effective cross-border payments for individuals and businesses who want to send financial support to their families abroad or facilitate trade transactions. AccessAfrica customers will also be able to receive payments from all over the world through MFS Africa partners.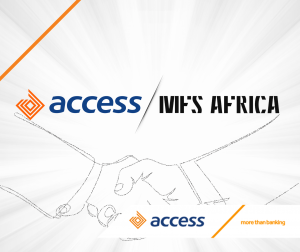 Commenting on the partnership with MFS Africa,Robert Giles,senior banking advisor, retail, Access Bank, said the partnership builds on the existing cross-border payment infrastructure by Access Bank and would facilitate payments to more African corridors, increasing the number of countries it can send instant payments through Access Africa.
"Our partnership with MFS Africa and access to hundreds of millions of people in the new markets will help our customers pay and be paid, facilitating greater economic inclusion through trade as well as helping families across borders.  Critically this propels us closer towards being 'Africa's gateway to the world' and democratizing access to payments through affordable, safe and reliable platforms," Giles said.
On his part, Dare, CEO at MFS Africa, said the partnership reaffirms MFS Africa's commitment to making borders matter less for individuals and organisations across the continent, ultimately fostering financial inclusion.
Okoudjou noted that the partnership will enable MFS Africa expand Access instant outbound remittance reach to potentially 400 million mobile wallets and more than 130 banks across over 35 African countries, enabling thousands of people and businesses throughout the continent to receive payments in real time from Nigeria, and improving convenience for and facilitating trade with the neighbouring countries and beyond.
"Uplifting the African continent through sustainable and accessible financial services has always been at the center of what we do at MFS Africa. Partnering with Access Bank, who shares this ethos, made complete sense," he added.