Equities
Miners drive South African stocks to record high as Kumba gains
July 31, 20171.1K views0 comments
South Africa's benchmark stock index advanced to a record Monday, joining a global rally as commodity prices surged on optimism economic growth is gathering momentum.
The FTSE/JSE Africa All Share Index rose as much as 0.9 percent to 55,366.74. It pared gains to be 0.7 percent higher by 10:45 a.m. in Johannesburg, still set for the strongest close on record. The gauge is up more than 7 percent in July, headed for the best monthly performance since October 2015. Mining companies including Kumba Iron Ore Ltd., African Rainbow Minerals Ltd., Glencore Plc and Anglo American Plc were among the biggest gainers.
South African stocks have been held back this year by an economy that slumped into its second recession in almost a decade. The Johannesburg benchmark's 9.1 percent advance since the start of 2017 is well short of the 24 percent jump in the MSCI Emerging Markets Index as concerns persist over whether the government of President Jacob Zuma will pursue policies to reignite growth.
This is "quite a big recovery from not long ago, when the market was under tremendous pressure because of the negativity that's gone on generally in the economy," Ferdi Heyneke, a money manager at Afrifocus Securities, said by phone from Johannesburg. "It could be quite a bullish sentiment if we continue to break on the upside." With the "right economic management locally" and a continuation of overseas markets performing well, "we can certainly see some good upside going forward," he said.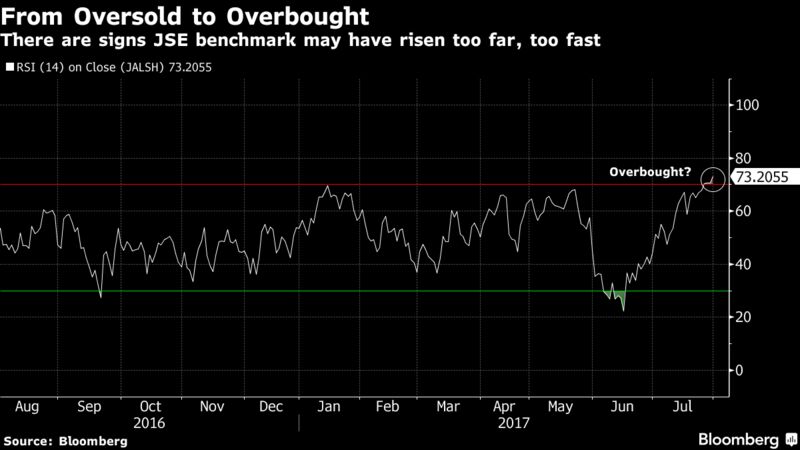 There is at least one sign that Johannesburg stocks may have already risen too much. For the first time since March 2016, the benchmark index's relative strength index is above 70, a level that suggests it may be poised to drop. As recently as the middle of last month, the RSI suggested that South African stocks were oversold.
"The market is pricing in the second half of 2018, when the recession will be over, interest rates will be lower and we'll likely have a new president," Simon Brown, a trader at Just One Lap, said by email. Those factors are "all good news for local earnings within our market that'll be added to decent global earnings," he said.
Kumba Iron Ore climbed 5.2 percent, Anglo American was 3.6 percent higher, African Rainbow gained 3.3 percent and Glencore advanced 3.2 percent.
---
Report courtesy Bloomberg