Technology
MTN launches Zambia's first 5G service
December 2, 2022257 views0 comments
By Chisom Nwatu
MTN Group has launched the first 5G network service in the Republic of Zambia after successful trials that ran for the past 11 months.
MTN Zambia is the leading telco group's third operation in Africa, after Nigeria and South Africa, where 5G services are now commercially available.
Bart Hofker, MTN Zambia CEO, said the new 5G services will cover 65 percent of the population in the cities of Lusaka, Kitwe and Ndola as well as parts of Chingola, Solwezi and Kalumbila, an area which homes roughly 15 percent of the population.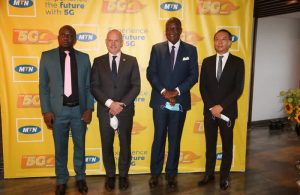 "We plan to reach 100 percent 5G coverage in Lusaka, Kitwe and Ndola by the middle of 2023, while gradually expanding the 5G network to other locations," said Hofker.
He said MTN Zambia customers need a 5G-enabled device to connect to the 5G network where it is available.
The introduction of 5G is part of a wider network strategy for MTN Zambia. Other programmes involve the optimisation and modernisation of existing 3G and 4G networks, the building of a fibre ring in Zambia with MTN GlobalConnect, as well as the extension of coverage in more rural areas.
"Through our rural connectivity programme, MTN Zambia and its partners plan to use cost-effective coverage alternatives to launch 45 rural sites in 2022 and another 100 in 2023," Hofker said.
Zambia's President Hakainde Hichilema presided over the launch at the Mulungushi International Conference Centre with government ministers, telecoms regulators and central bank CEOs also in attendance.
Leading the MTN Group delegation were Chairman Mcebisi Jonas, Group President and CEO Ralph Mupita and Southern and East Africa Vice President Yolanda Cuba.
"5G can unlock many new use cases and in Zambia, we see great opportunities across many sectors, and in the mining industry in particular," said Mupita.