Finance
Frontpage
National Theatre revamp rises 100% to $200m
December 14, 2022302 views0 comments
By Rosemary Iwuala
Two years after it took over renovation of the National Arts Theatre (NAT), the Bankers' Committee has said the cost of rehabilitating the national edifice as well its surrounding ecosystem would cost $200 million, $100 million more than what was initially budgeted.
Godwin Emefiele, the governor of the Central Bank of Nigeria,stated this at the end of the recently concluded Bankers Committee retreat in Lagos.
Emefiele, whilst speaking on the progress made at the NAT, which recently hosted an international event said, although there has been a setback in the completion of the second phase of the project, the first phase is expected to be commissioned by President Muhammadu Buhari..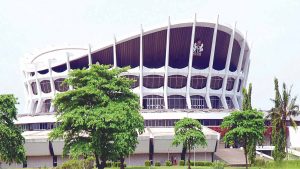 The CBN governor disclosed that the plan is to complete the project with the balance of the Agri-Business Micro Small and medium Enterprises Investment Scheme (AGSMIES) fund. The fund is a coalition of five percent of profit after tax of banks towards funding small businesses.
The second phase of the NAT rehabilitation is the development of the surrounding area of edifice for hubs focused on supporting emerging talent in the music, film, fashion, and IT sectors.
"I must confess that when we started this project, it was planned that both phase one and phase two would be completed with $100 million. But unfortunately, when we took on the dimensions, the scope of projects, we found out that this was going to run through to $200 million.
"This is presently being funded from AGMSES fund and the bankers' committee resolved that we would take the remaining part of that fund to complete this project because we believe that this is a viable project,"he said.